Deep ruby color; black cherry, mocha, baking spice on the nose; black and red cherry, redcurrant, plum, mocha on the palate.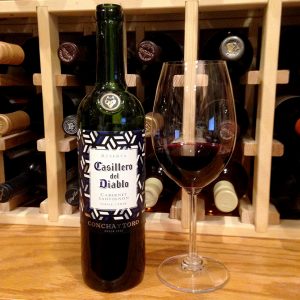 Dry; this is tame for a cab with simple tannins and acidity; tomato notes on the finish. This is Concha y Toro's basic, solid cab at excellent price, just do not expect depth and complexity. This is re-tasting of this effort, although it is a new sample with different label. I last tasted and reviewed this to go with a Halloween column—there was special packaging to play upon the "Celler of the Devil" label—and seven months later my notes pretty well match. This bottle has a new, festive label, but is the same vintage and brand. With close to two millions cases of this made each year, the marketing people can play around with packaging.
Concha y Toro consistently delivers great value for price. Casillero del Diablo is one of their premium wine labels; for a few dollars more you can get the "privada" offering, which offers more complexity and refinement. They also have fine wine labels (Don Melchor is the flagship) and lower end varietal labels (Fontera and Sunrise). Winemaker Marcelo Papa is responsible for this wine. He earned a degree in enology from Universidad Católica de Chile, joined Concha y Toro, and has been head winemaker at Casillero del Diablo since 1998.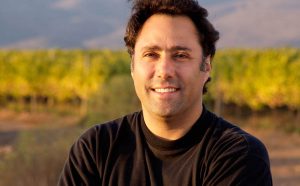 Concha y Toro is Chile's biggest winery and an important player on the world wine stage. Don Melchor de Santiago Concha y Toro founded the winery in 1883. When he saw that some of this best wines disappeared from his cellar, Don Melchor decided to put an end to thefts by creating a story that the devil lived in the cellar, which was in the deepest and darkest part of the winery. The Casillero del Diablo rumor spread. Some claimed to have actually seen diablo (devil). As the story goes, the thefts stopped. Today, the legend lives on more as a marketing ploy than a ploy to frighten would-bed cellar robbers, and it is a particularly useful marketing tool around Halloween.
Concha y Toro, BTW, is Spanish for "shell and bull." The Casillero del Diablo story may contain some elements of bull, but the wines consistently are very drinkable values, and Chile—and Argentina on the other side of the Andes—are major contributors to the exquisite abundance of quality wines in the world today.
Concha y Toro Casillero del Diablo Reserva Cabernet Sauvignon 2016 is serviceable, easily approachable cab. Very easy drinker with nice red and black fruits, hint of chocolate, and restrained oak. Pair with meat casserole, roasted beef, empanadas, barbecue, pizza, roast lamb, roast duck, mature cheeses. $9-11