Medium purple color; ripe dark fruits and pepper on the nose; black cherry, plum, blackberry, red fruits, some oak, brown spice and pepper on the palate.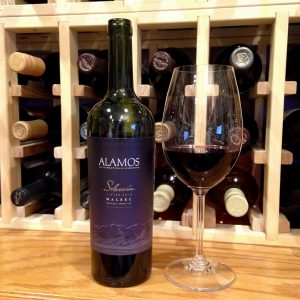 Dry; soft and delicious, supple mouthfeel; mild, silky tannins, very moderate acidity (3.75 pH). Small portions of syrah and bonarda add additional dark cherry and vanilla to the tasty mix. Nice finesse and depth at this price.
Bodega Catena Zapata produces Alamos. Gallo owns distribution rights for this wine in the United States, so you should be able to easily find this (and other Alamos varietals). You might notice some name issues—the wine distributed by Gallo in the U.S. is labeled Alamos (Spanish word for poplar/cottonwood tree); the name of the winery is Bodega Catena Zapata (bodega is Spanish for winery). Faithful followers of my reviews already know of my high regard for Bodega Catena Zapata—one of the three pinnacle producers in Argentina. Alamos is a division of this major maker, even if the label does not proclaim it.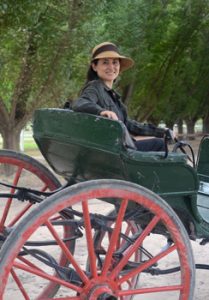 In what happily is no longer surprising, this effort is female directed. The Catena family has made wine in Mendoza since they immigrated from Italy more a century ago. Dr. Nicolás Catena Zapata and his daughter, Laura, run the winery today, with Laura now in the principal role. The Catenas are winemakers and much more. Nicolás Catena was a professor of economics at UC-Berkeley in the 1980s and Dr. Laura Catena is an emergency room physician with degrees from Harvard (magna cum laude) and Stanford before she returned to the family wine business. She splits her time between doctor duties in California and winery leadership in Argentina. Women multi-task so much better than men.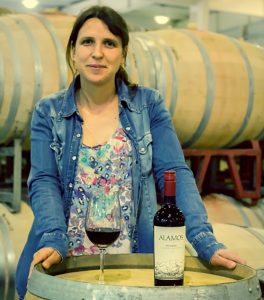 Lucia Vaieretti is the Alamos winemaker. She is a second-generation winemaker who worked a dozen years with the Catena family before taking on Alamos responsibilities. Lucia is a mother with four children; her husband also is a winemaker. The Alamos brand ambassador and sommelier is Tatiana Nessier. Nessier is fluent in English, Spanish, and Portuguese and studied to be a sommelier at the Escuela Argentina de Sommeliers. She represents Alamos at the winery and internationally.
Alamos Mendoza Selección Malbec 2015 is tasty easy drinker that is friendly to those sometimes put off by red wines—that is Argentine malbec's sweet spot in the wine market. There is some sophistication, but deliciousness is the strong suite for this effort. Pair with blue cheese burger, lamb with mint sauce, leaner cuts of steak, roast turkey, pork tenderloin, venison, roasted portobello mushroom, baked potato, roasted red peppers, blue and other pungent cheeses such as gorgonzola, Monterey Jack, melted Swiss cheese; avoid bitter greens, strong fish, vinaigrette salads. $20