Dark purple color with faintest translucence; dark fruits, plum, whiff of oak on the nose; rich plum, black cherry, green herbs on the palate.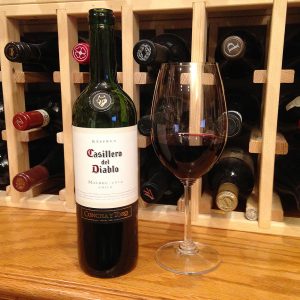 Smooth with medium-light body; light tannins, almost no acidity; tasty oak and touch of cocoa. There is not much length and a fast finish. Simple, serviceable wine from Chile's monster maker. Qualifies as a decent second or third bottle or as a casual pizza party wine. Concha y Toro makes a carménère at same price point that is a better value; at the right wine store, you can buy both and compare for a Jackson.
Don Melchor de Santiago Concha y Toro founded the winery in 1883. When he saw that some of this best wines disappeared from the cellar a few years later, Don Melchor decided to put an end to thefts by creating the story that the devil lived in the cellar. The Casillero del Diablo rumor spread. Some claimed to have actually seen diablo (the devil). The thefts stopped. Today, the legend lives on more as a marketing ploy than a play to frighten would-bed cellar robbers. Concha y Toro, BTW, is Spanish for shell and bull.
Concha y Toro Casillero del Diablo Reserva Malbec 2014 does not soar like a Mendoza malbec from Argentina, but it is credible enough at an incredible price and widely available. $9-11
Second, third photos: Concha y Toro cellar, winery