Very dark red color; blueberry, plum, chocolate, spice on the nose; blueberry, blackberry, plum, mocha, caramel, pepper on the palate.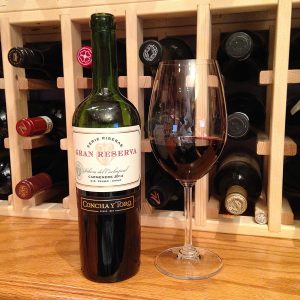 Rich, concentrated flavors, big body, some oak—extended aging is how you evoke the blueberry and caramel—plus an herbaceous note or two. Polished tannin, behaved acidity, somewhat soft in the mouth; very easy drinker.
Concha y Toro is the big dog winery in Chile, and this is their flagship line of wine. Gran Reserva Serie Riberas ("Riverbank Series") wines are grown close to one of Chile's four major rivers formed by meltwater from snow packs in the nearby Andes (in this case, the Cachapoal River). The rivers created mineral-rich basins and valleys and give a passageway for fresh, cool Pacific Ocean breezes to reach the vineyards, engendering slow and even maturation of grapes. The result is a concentration of flavor in cool climate grapes.
Concha y Toro Gran Reserva Serie Riberas Carmenère 2014 is affordable and easy drinking example of Chile's signature varietal grape by the country's leading winemaker. Concha y Toro is a world-class player in the wine world and consistently produces quality wines at superb prices; this is an example. $14-17