Deep ruby color; dark cherry, black plum, spice on the nose; black cherry, plum, blackcurrant, blackberry baking spice, chocolate, mint hint on the palate.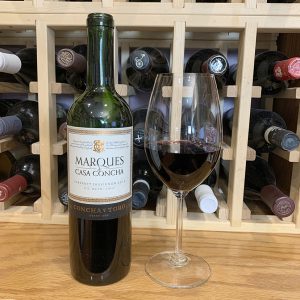 Dry; significant tannins and aggressive acidity—definitely decant for this to show its best. Rich, robust, fleshy dark fruits dominate. Relative complexity and depth considering the price point. Includes 5% syrah and 4% cabernet franc. Winemakers had to aggressively sort and discard grapes thanks to rain during the harvest. That makes it tough for cab, but Concho y Toro rose to the challenge.
Medium-full body. Minerality on the mid-palate. Medium finish with encores by the concentrated black fruits. Integrated oak complements the rich dark fruit; oak and vanilla; 16 months in French oak and Italian botti. Tastiness of the fruit emerges after decanting, and continues to round into shape with phenolic or "physiological" ripeness, achieved when the grape's skins and stems are ripe; 13.5% ABV.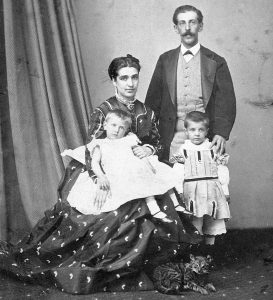 Don Melchor de Santiago Concha y Toro and his wife, Emiliana Subercaseux founded the vineyard and winery in 1883. The original grapes came from Bordeuax. The vineyard was incorporated as a stock company in 1923, with shares sold on the Santiago stock market. In 1933, Concha y Toro began exporting wine through the port of Rotterdam, the Netherlands. In 1987, it partnered with U.S. importer Banfi Vintners, upgraded technology, and began its rise to a significant player on the world wine stage. In 1994, shares of Viña Concha began trading on the New York Stock Exchange.
Concha y Toro headquarters in Santiago, Chile, and is one of the world's largest producers. The operation is not just a Chilean winemaker today. Their California brands include Fetzer, Bonterra, Five Rivers, Bel Arbor, Jekel Vineyards, Coldwater Creek, Sanctuary, and Little Black Dress.
Concha y Toro Marques de Casa Concha Cabernet Sauvignon Maipo Valley, Chile 2016 is loads of black fruit. Tasty, significant cab at this price point. Decanting brings forth its best qualities, which are considerable. Made by one of world's leading wineries. Pair with usual rich, red meats typically associated with cabernet sauvignon; lamb; wild game; roasted chicken; burgers and sliders; comfort food in general. $22-25