With upcoming holiday feasts, the likelihood of fancier feasts dramatically increases, including cooking with wine. Tips, notes: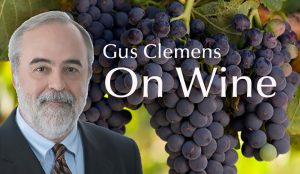 • Never cook with wine labeled "cooking wine." It is plonk and often not cheaper than acceptable wine. Rule of thumb: if you do not like how it tastes in your glass, do not put it in your food.
• Cook with value wines. You can use wines you may not typically drink—bottom shelf wines, sweeter wines, box wines. You do not have to cook with quality wines. Save them for drinking with the meal.
• Longer you cook a dish, less wine quality matters. Neat trick—add splash of better wine at finish of long braise. It will taste like you used better wine the entire time.
• You can use wine that has been opened, but five days usually is the max. Taste it. If it still has fruit and some liveliness, go with it. If not, down the drain, not in the pot.
• Dry, crisp, unoaked whites—pinot grigio, sauv blanc, unoaked chard, sparkling wine—and medium body, low tannin reds—merlot, Beaujolais, tempranillo, carménère—are most versatile wines for cooking.
• Fortified wines—sherry, Madeira, Marsala—are excellent, adding sweetness and strength. You can use add-at-the-finish trick with these.
• Reducing wine concentrates wine's dominant flavor. Add small amount to a dish or dressing; reduced white wine is fabulous addition to Alfredo sauce.
• It is not true wine used in cooking loses its alcohol. Longer the cooking, less the alcohol, but it takes about three hours and how much wine you use matters. Reducing wine lowers alcohol. If cooking time is short or you use the add at the finish trick, there will be alcohol in the dish.
Tasting notes:
• Locations Wine TX Texas Red Wine NV: Big fruit, relaxed tannins, all Texas grapes. $17 Link to review
• Duchman Family Winery Montepulciano 2011: Superbly drinkable, emphatically demonstrates Texas wines can hang with the big boys. $18 Link to review
• Michael Mondavi Family Emblem Cabernet Sauvignon Napa Valley 2014: Delivers the almost-over-the-top flavors you seek from America's premier cab region. $30-38 Link to review
Last round: There are tall ships and small ships and ships that sail the sea. The best ships are friendships—may that always be. Raise a glass of wine to that this Thanksgiving.
Email Gus at wine@cwadv.com. Facebook: Gus Clemens on Wine. Twitter: @gusclemens.