Deep ruby color; red fruits, bourbon on the nose; red and black cherry, sugar plum, redcurrant, oak on the palate.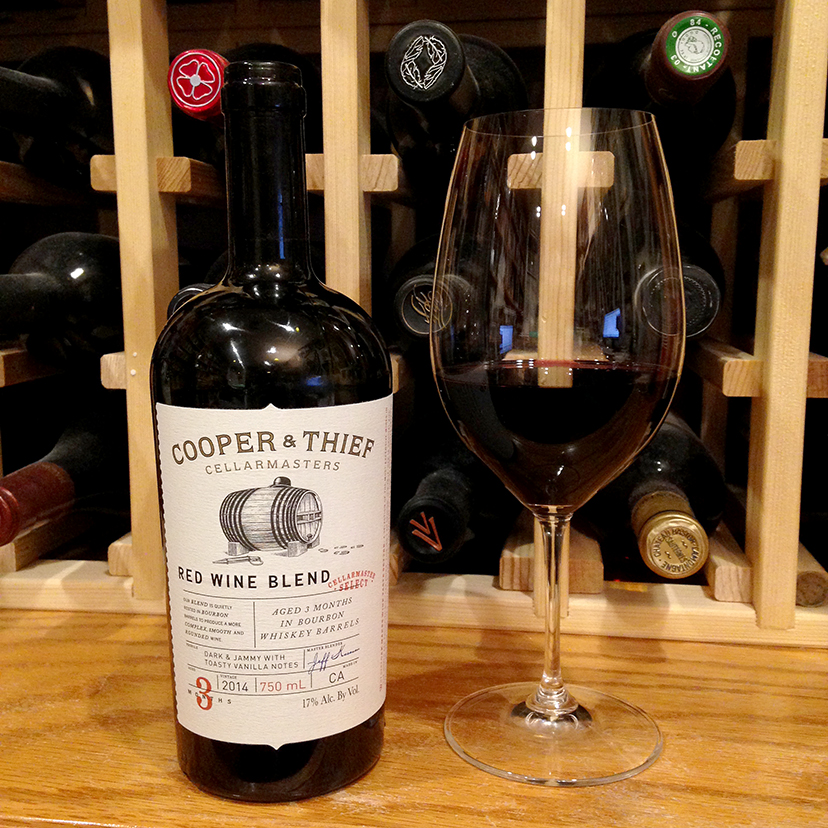 Dry; massively dark and jammy, rich in the mouth. Aged three months in bourbon barrels—the trendy new thing in California red wines—this pours in with a monster 17% ABV, avalanche of fruity sweetness abetted by 5.4 g/L RS, and wimpy 3.9 pH. You taste the bourbon and oak influence much more than the blend of 38% merlot, 37% syrah, 11% zinfandel, 7% petite sirah, 4% cabernet sauvignon, and 3% other reds. The maker threw all the red grapes available into this knowing the bourbon barrels would mash everything together. There is no typistity to this at all, unless you count the oak and bourbon.
Surprisingly, the astonishing 17% ABV does not really come across as hot, masked by the bourbon and oak. The sweetness of the alcohol, ripe fruits, and oak really comes across, even if technically the residual sugar keeps this in the dry category. Thanks to the merlot and syrah, the tannins are mild, hardly noticeable. Again, the alcohol sweetness and fruity sweetness trample flavor nuances.
The name comes from the craftspeople who hand-make whiskey barrels (and wine and other barrels)—the cooper. The thief refers to the hollow-tube tool used to draw wine from a barrel for evaluation as it evolves.
The wine is a product of Constellation Brands, the largest wine maker in the world. Constellation knows marketing and niches, and they clearly zeroed in on one here. Those who appreciate their traditional brands—Robert Mondavi, Kim Crawford, Charles Smith, Franciscan Estate, The Prisoner, Tom Gore—know Constellation can make quality wines that behave like traditional wines. This is not one of them. I am certain, however, Constellation carefully researched this and discovered a wine-drinking segment that will enjoy. So have other makers, as bourbon-barrel aging is the latest new thing in wine.
While this is not my goblet of wine, it could be yours. Super oak and other flavors—the bourbon oak in this effort—mask the fruit flavors, actually in this case completely overwhelm the fruit flavors. I have the same problem with massive oak and butter chardonnays. I also recognize that other palates really enjoy such a style, and I have long preached if this is what you like, then it is great wine for you, and my opinion does not matter.
Cooper & Thief Cellarmasters Red Wine Blend 2014 is huge play on high alcohol and landslide of bourbon-flavored oak. Hard to find the melange of fruit past that attack, which may be the point. Give it a try to see if this is what you've always been looking for, or what you never want to taste again. Different strokes, different folks. It is hard to imagine what food pairs with this, maybe equally massive steaks, but even then the red meat likely will be pounded into oblivion. With its high alcohol and lurid flavors, however, this will work very well as a solo sipper, maybe knocked back in your man cave while watching your favorite team. By the end of the game and the bottle, you won't care about the score. $25
This wine is assembled from grapes throughout California and made in a wine factory, so there are no bucolic glamor photos of vineyards, winery, or tasting rooms.