Deep purple color; coffee, pepper, spice on the nose; blackberry, raisin, black cherry on the palate.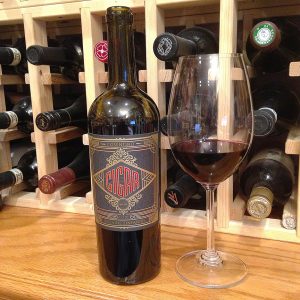 Very rich in the mouth, flamboyantly ripe fruit flavors of classic old vine Lodi zin. Some sweet tannins with balancing acidity; oak lurks but does not overpower; chocolate, cocoa develop with the wine in glass. At 15.5% alcohol, you also get the expected power, but the richness of the fruit flirts with jammy and taps down heat sensations on the finish. Just a note—I get no tobacco or cigar flavors or aromas in spite of the name; likely a good thing.
Cosentino Winery is located in Oakville on the historic Saint Helena Highway at the entry to the Napa County, but they also have long been champions of the Lodi Appellation to their east. Winemaker Marty Peterson is a fourth-generation farmer and grape grower in Lodi and emphasizes sustainable farming—Lodi is one of the leading U.S. appellations for sustainable farming.
Cosentino is a Vintage Wine Estates brand—others include B.R. Cohn, Delectus Winery, Sonoma Coast Vineyard (SCV), Viansa, and many others—and also is a partnership with Deutsch Family Wine and Spirits. Deutsch brands include Yellow Tail, Josh Cellars, Ruta 22, Georges Duboeuf and many others. So this pour pulls together two heavy hitters, if not players quite in the Constellation Brands, Gallo, and Treasury Wine Estate tier. They emphasize crowd pleasing pours—dependable quality, a flirtation with jammy to provide the fruity sweetness that is a mass market winning formula, and a price that doesn't freak the casual wine drinker.
Cosentino Winery Cigar Old Vine Zinfandel 2015 is all you expect from a big, juicy, mouth-filling, fun drinking, Lodi zinfandel at a nice price. $17-22
Photos: Cosentino Winery; Cosentino Winery tasting area; Cosentino winemaker Marty Peterson