Dark red-garnet color with faint translucence; raspberry, pepper on the nose; blackcurrant, raspberry, red cherry, strawberry, tobacco on the palate.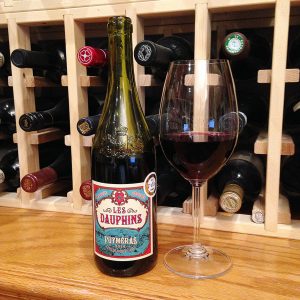 Nicely fruity forward, flirts with jammy, but the blackcurrant holds it in check; strawberry comes on strong in mid-palate; medium length. No oak aging—all done in concrete tanks, which allows more air interaction than stainless steel. Medium body. Grippy-dusty tannins, balancing acidity (3.6 pH), almost smooth, just enough rough edges to be interesting. Benefits from decanting.
Blend of 70% grenache, 20% syrah, 10% carignan—the syrah and carignan likely deliver the blackcurrant that competes with the grenache raspberry flavors in an intriguing roundelay as the wine evolves on the palate. Plenty to enjoy is this energetic offering from southern Rhône; fruity vigor is its strong suit, so best to pop the cork when it is young.
Les Dauphins created a collection of Côtes du Rhône Villages wines for the U.S. market. Beautiful, eye-catching labels. All the wines are made with certified organic grapes taken from vines with an average age of 30 years in the southern Rhône, Villages appellation. The winery was named Rhône Winery of the Year at the New York International Wine Challenge in 2016 and Rhône Winery of the Year at the 2015 New York International Wine Competition. The Challenge and the Competition are different events, both are very influential in the wine trade, so clearly Les Dauphins is doing something right—and a taste from this bottle bears that out.
The term "Villages" in Côtes de Rhône wines means the grapes come from specific quality villages (communes) in the Rhône. Puyméras supplies the grapes for this wine; it is a commune in the Vaucluse department in the Prevence-Alpes-Côte d'Azur region in southeastern France. Villages is a French Appelation d'Origine Contrôlée (AOC). It is the second-largest appellation in the Rhône; Côtes du Rhône is the largest. Villages is a step up from Côtes du Rhône, but below such pinnacle appellations as Châteauneuf du Pape, Gigondas, or Vacqueyras.
The Villages appellation was established in 1966-1967 and now includes almost 25,000 acres; half of which can add the name "Villages" to their label; the other half can add "Village" (no S) to distinguish themselves from the lesser Côtes du Rhône wines, but not at the quality level of Villages.
Les Dauphins Côtes du Rhône Villages Puyméras Rouge 2014 is tasty, fruit-forward pleaser; with its medium body, it pairs with pork ribs or other meats not as assertive as a ribeye or other rich, red meat. Well worth a whirl. $14-19
Photos: Dauphins winery; Cotes du Rhône Villages vineyard; Commune of Puyméras.