Medium salmon color; strawberry, raspberry on the nose; red fruits, strawberry, citrus notes on the palate.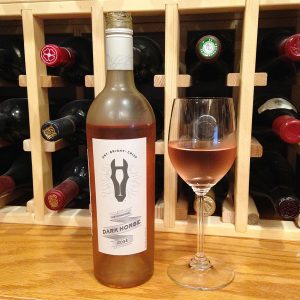 Dry with crisp fruit flavors; bright. Simple but nicely done blend of 48% grenache, 16% barbera, 13% pinot gris; 12% tempranillo, 11% other grapes. Very clean with no oak influence. Very little fruity sweetness; this is straightforward dry rosé without complexity or levels of flavors—what you want and expect from a rosé at this price point. Made somewhat in Provence style with California style elements.
Dark Horse is a Gallo value play. Widely available, nicely priced to grab-and-go. Winemaker Beth Liston is a badass, with tattoos and attitude and talent. Visit the website, click link below (click "Meet Beth" link), to experience her making wine in Modesto, California. Cool logo, too.
Dark Horse Rosé 2016 is simple, perfectly priced and made for sipping in a plastic cup around the pool during high summer. You can pour on ice if you wish to extend the refreshing experience. $10