Medium gold color; lemon, pear, spice on the nose; crème brûlée, citrus, pineapple, honeysuckle, slice of yellow apple on the palate.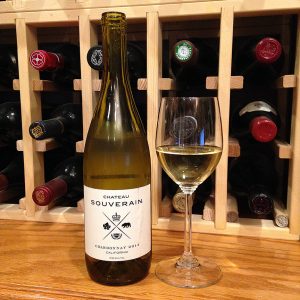 Dry, medium-full body; crisp, nice acidity (3.43 pH); fresh, balanced. Very nicely subdued oak, mostly stainless fermentation to preserve the clarity of the well-developed fruit from Napa, Sonoma, and Mendocino counties.
J. Leland "Lee" Stewart founded Chateau Souverain in 1944, and in 1974 produced a Vintage Selection Cabernet Sauvignon ($7-8) that a young Robert Parker raved about—this recommendation helped launch Parker's career. Souverain continues to make nice wines, although maybe not to the 1974 heights (according to Parker).
Lee named his winery "Souverain" on the suggestion of his daughter as a play on the French word for "sovereign." In 1958, Lee gave legendary winemaker Mike Grgich his first job in a Napa winery. Originally located on Howell Mountain in Napa, the winery moved to the Alexander Valley in Sonoma in 1973. In 1980, Lee retired, and in 1992 Ed Killian joined the winery, becoming head winemaker in 1996. The winery moved to the historic Asti winery in 2006. In 2014—beginning the with vintage in this bottle—the winery rolled out a new label, logo, and crest to honor Lee Stewart, his signature black glasses, and his home state of California.
Winemaker Ed Killian continues Lee's focus on varietal wines. His more than 25 years of work in Sonoma and the Alexander Valley helps him use fruit to stay true to Souverain's rich, smooth style. A native Californian, Killian earned his BA in biology a the University of Redlands and his MA in enology at UC Davis.
Chateau Souverain Chardonnay 2014 is a very nice chard at a very nice price. Great acidity and excellent fruit. Continues the admirable tradition of Lee Stewart, Ed Killian, and Souverain. $10-13