Deep ruby color; raspberry, cherry, kirsch, bell pepper, violets on the nose; tart raspberry, cherry, bell pepper, vanilla, meat, minerality on the palate.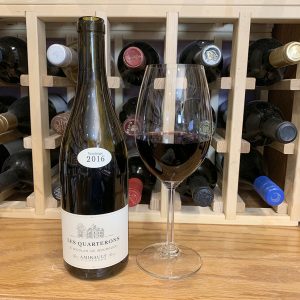 Dry; fresh with good acidity, tartness from initial attack through the medium finish. Moderate, non-assertive tannins. Medium body., but even with tartness there is silky mouthfeel. Interesting. Thanks to warming climate and improved viticulture practices—the domaine is 100% certified by Ecocert and certified biodynamic by Demeter—this is very concentrated, especially for a Loire-St. Nicolas cab franc. It demonstrates where some varietals are going in response to warmer temperatures; 12% ABV.
Located in St.-Nicolas-de-Bourgueil in the Loire Valley, the Amirault's 92-acre Clos des Quarterons vineyard has been worked by the Amirault family for six generations. Only 2.5 acres are planted in chenin blanc, the remainder in cabernet franc. Xavier Amirault sums up his approach: "One village, one grape variety. It's very simple."
Monks planted cabernet franc—the parent grape of both cabernet sauvignon and merlot—in the area in the 10th century. The current vines are at least 30 years old, adding to the concentration and vivid presentation of cab franc flavors. The sand and gravel alluvial plain on the north banks of the Loire, where the Amirault vines are planted, in the past have produced the lightest style of Loire cabernet franc. That makes the concentration and power of this effort all the more remarkable.
Domaine Agnès et Xavier Amirault St.-Nicolas-de-Bourgueil Les Quarterons 2016 has concentrated cabernet franc flavors in an inviting package that includes tart raspberry married to a silky mouthfeel and tame tannins. Cab franc fans need to give this a taste. Pair with roast or grilled lamb; pork; grilled steaks; meatloaf; beef stew; casseroles; game birds and wild game; mature cheeses. $28-32
Link to US importers website Amirault page
Link to winegrowers of Saint Nicolas website Amirault page