Pale-medium ruby color; red cherry, plum crushed stone, rose petals on the nose; raspberry, cherry, cranberry, cinnamon, spice on the palate.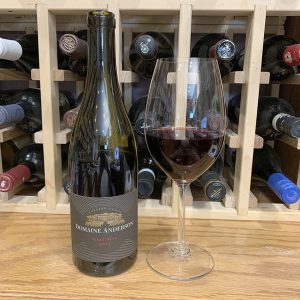 Dry; medium-full body; very relaxed tannin; excellent acidity (3.54 pH). A tad thin on flavor; nothing bad, but nothing outstanding at first, but this approach grows on you as you sip away. Demure flavors evolve to provide nuances of complexity and depth. Good wine does not have to blow you away on first sip. This does not. But give it a second and third swallow and you begin to see and appreciate what winemaker Darrin Low was going for here; 13.8% ABV.
This drinks much more like a Burgundy pinot noir than a California effort. That confused me at first. Where was the California muscle? Then, as I got into the wine, it dawned what was going on. This is the etherial, delicate beauty I enjoy from France and Oregon. Would I have approached the first sip differently if I had not read the label and dragged my preconceptions and prejudices with me? Yes, most likely. Point taken.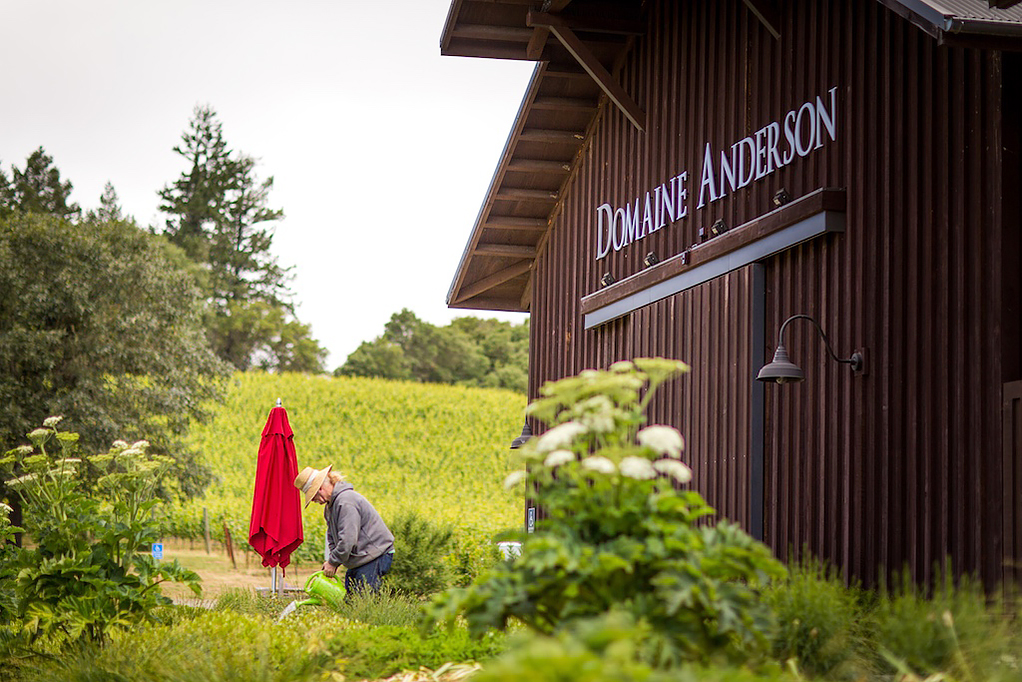 Domaine Anderson is a venture of Champagne Louis Roederer. It is located near the village of Philo in the Anderson Valley. Located 20 miles from the Pacific Ocean in Mendocino County, delivering consistent moderate temperatures, morning fog, and afternoon breezes through the growing season. An ideal environment for pinot noir and chardonnay, which Domaine Anderson specializes in.
Winemaker Darrin Low and director of vineyard operations Bob Gibsonis advocate of organic and biodynamic practices. Groundwater is captured with a drainage system and repurposed for irrigation in a reservoir. All-natural compost improves fruit quality. Selected plants welcome hummingbirds, bees and ladybugs to help control vineyard pests and promote pollination.
Darrin Low told Haute Cuisine Magazine: "Biodynamic is organic farming that respects the bond between soil, plant and animal as a connected farm-system and promotes the harmony between them. Farming without the use of industrial fertilizers or the 'killing chemicals': herbicide, fungicide, pesticide; stimulates and encourages microbial population in the soil. The healthy population of bacteria and fungus in the soil forms a strong bond with the vine roots and enables it to draw more micronutrient and mineral from the soil. The increased mineral uptake from the vine will manifest to grapes with more nuanced flavor and character."
Domaine Anderson Pinot Noir, Anderson Valley 2015 sneaks up on you with its quality and depth. Light, bright, lively in the glass. Grows on you with its subtleness and gracious flavors. This is Audrey Hepburn, not Marilyn Monroe wine. Certainly, with acidity, will work with food. Pair with lamb; salmon and other fatty fish; lighter meats; roast chicken; pasta dishes; French dishes with light, creamy sauces; charcuterie; cold meats. $40-47