Medium straw color; apple, pear, orange zest, melon on the nose; green apple, lemon-lime, peach, pear, touch of minerality on the palate.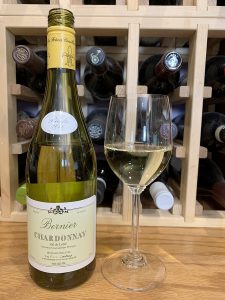 Dry; lean and clean, crisp and bright. Produced by the Couillaud Family at the Château de la Ragotière in the Muscadet region. This is IGP—Indication Géographique Protégée—wine, which means the chardonnay grapes fall out of those permitted in the appellation. The IGP designation replaced the Vin de Pays (country wine). That clearly does not mean this is bad wine; a simple sip of this erases that suspicion. It does demonstrate how worldwide winemakers are thinking out of their box. This is pure, 100% chardonnay play.
No oak is used. Some 70-80 percent of the wine undergoes malolactic fermentation in order to soften the acidity and add smoothness. Acidity is still high, a good thing. This is not in the same league as a chablis from Burgundy, both in quality and especially in price. This is excellent, easy drinking, tasty chard for a fraction of the price of a white Burgundy; 12% ABV.
The domaine explains: "This value-priced chardonnay tastes crisp and bright. It comes from the western Loire Valley, an unexpected place for this Burgundy grape variety, and is made in a fresh, unoaked style, nothing like the famed (and costly) Burgundy crus. Though unconventional, it's delicious, with fruit flavors that echo pears and apples, and an enticing hint of minerality beneath the surface."
Domaine de Bernier current story began in 1978 when brothers Bernard and François Couillaud purchased the property in the Muscadet region, near the Atlantic Ocean, and a region not known for chardonnay. Bernard did research and, according to the website: "the Chardonnay grape piqued his interest due to its unexplored potential in a maritime region. He launched the project and immediately set out for Chablis to research and learn more about Chardonnay. Planting started in the spring of 1987 and, over the course of three years, 42-acres were planted on the hillside plot."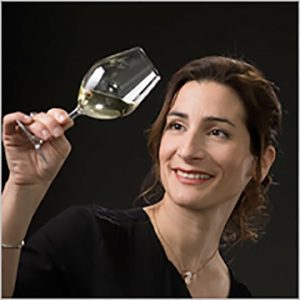 Amélie Dugué-Couillaud is an owner and sales manager of Domaine de Bernier today. She was born in Nantes in 1978 and studied English and German at the University Catholique de l'Ouest in Angers with a one-year specialization in international business and tourism. She worked as a travel agent until returning to the family winery in the Loire Valley in 2006.
She trained with her father, Bernard , for a year—returning to the land of her childhood. There is a charming photo of them walking in the vineyard when she was a toddler. Also one with her mother when she was a teenager. Today, Amélie owns the winery with her uncle, François, and her husband, Vincent Dugué.
Domaine de Bernier Chardonnay Val De Loire 2018 is tasty, taut, exceptional QPR (quality-price ratio) chard. No oak, so clean fruit and good acidity pleasure the palate.  Works well as an aperitif or almost solo with charcuterie board, neutral wine crackers, and good friends at a book club or mah jong soirée. Pair with grilled lobster; fish with sauce; chicken curry; roast chicken, hard cheeses. $12
U.S. distributor website for Domaine de Bernier