Deep purple color; very concentrated red fruits, leather, lavender, hint of barnyard on the nose; intense red fruits, dark cherry, plum, blackcurrant, herbs, meat, white pepper, smoke on the palate.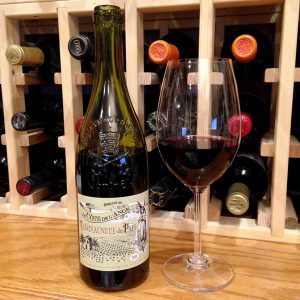 Dry; old-school GSM—70% grenache, 10% syrah, 20% mourvèdre—with overflowing assertive flavors. Leather and blackcurrant florid on the mid-palate. Medium body, relaxed tannins after seven years, but this very significantly benefits from air and decanting. In my standard pop-and-pour taste, this was south of what I expect from a quality Châteauneuf du Pape. Decanting, thankfully, brought this around. This is not a wine for everyone, especially if you are into innocuous reds with some sweetness and oak. There seems to be a bit of brett (brettanomyces) here, giving it rustic, earthy notes. Some embrace a bit of brett because it adds character dimensions and complexity, but other palates find it offensive. You make the call. Know if you pull cork on this, you are sipping into the world of serious, substantial wine. There is no stigma if you do not enjoy—none; if you enjoy or are intrigued, welcome to another level of wine.
Smooth and integrated, complicated and challenging on the palate, this is a bottle that either enchants or baffles your palate. It is an interesting portal into the world of very serious wine. This easily could not be your cup of tea… err, wine. Expensive, old wine—the hint of brett emphasizes the old wine characteristics—is not for everyone. It is an acquired taste. The more I sip this, the more I enjoy its subtle layers of complex flavors. The more it evolves in glass and with air, the more exquisite it becomes. Wines such as this are not for every palate, but push your envelope and see if your can enjoy. Just be sure to give it some air time.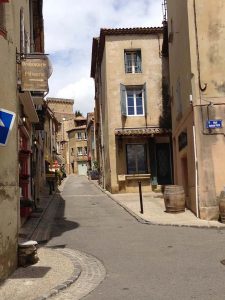 The Mestre family family enjoys a long and respected history in Châteauneuf du Pape (New Castle of the Pope) near Avignon. In the 1960s, Monique and Jean Claude Mestre took over the family brand and created their own vineyard from vines from the Côte de l'Ange. Their daughter, Corinne, and her husband, Yannick Gasparri, later took over management. In 2017, well after this bottle was made, their son Jules joined in the family enterprise. As their website asserts: "Together they respectfully perpetuate this age-old wine-growing tradition." This 2011 effort does reflect a traditional, old-style effort, which—in the world of wine—could be the next big thing.
Domaine de La Côte de l'Ange Châteauneuf du Pape 2011 is serious wine with complex layers of flavors, some of which may not please every drinker. Very concentrated red fruits, dark fruits, leather, throw in barnyard nose and brett on the palate and you are way, way past supermarket commodity red. Pair with rich red meat dishes, lamb, pork, veal, duck, wild game, roast chicken, sausage eggplant, very hearty fish such as tuna; will stand up to the richest fare, will overwhelm lighter fare. $45-64