Deep ruby color, almost black; red fruits, spice on the nose; cherry, blueberry, plum, blackberry on the palate.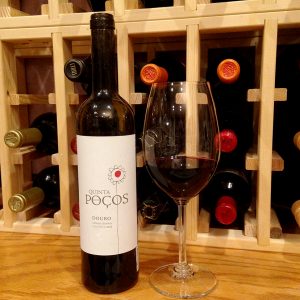 Dry; rich and full in the mouth, similar to a Napa cab or Aussie shiraz with less emphasis on tannin and oak. Hints of cocoa and mint. Made with touriga nacional, tinta roriz (tempranillo outside of Däo and Douro regions of Portugal), touriga franca. The touriga nacional brings the cab-like qualities to this wine, while the other two grapes add some softness (especially the touriga franca). This is Douro version of a Bordeaux blend. The three grapes are a classic blend.
The wines spent 18 months in stainless steel, thus the lack of oak, vanilla, and toast. Touriga nacional can bring big tannins into the picture, but after decanting—suggested by the wine maker—this is smooth, very easy drinker without tannic pucker. Interestingly complex. After five years and decanting this drinks as a smooth, tasty red blend and has lost the bitterness and tannin bite that some reviewers mentioned when they tasted it in its youth. I believe most red wines benefit from decanting, but when the winery itself suggested air exposure, follow the advice for best results.
Quinta dos Pocos is a family estate in the Baixo Corgo area of the Douro, surrounded by 62 acres of vines on slate soils. The slate adds a nice element of minerality to this effort. The winery is located in the World Heritage area of the Demarcated Region of Douro, on the left bank of the river. The wine area has a 300-year history; José Mesquita Guimarães and his wife have owned it the past 20-plus years and initiated many modern upgrades while striving to preserve Portuguese traditions. The grapes for this bottle, for instance, were pressed using human feet rather than machines. They only produces red wines. José has another career, by the way, he is a renowned dermatologist and professor.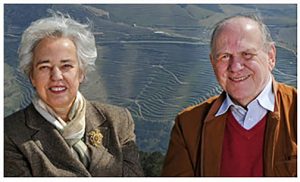 "Quinta" in Portuguese is the word for a vineyard in Portugal where grapes for wine or port or grown. It also is the name for a countryside inn. Both meanings come from the original meaning of "quinta"—"one-fifth." The vineyard/countryside inn meanings flow from fact that the land owner got to keep one-fifth of the grape production or inn income as rent. "Poços," by the way, means wells or pools in Portuguese.
Quinta dos Poços Colheita 2013 is another astonishing Portuguese value-for-price play. It competes with much higher end Bordeaux and similar red blends while retaining its own personality. Pair with meat and pasta dishes—anything that works with cab or Bordeaux blends. $16