Deep straw-yellow in color; flowers, peach, apricot on the nose; marzipan, ripe peach, apricot, and hint of honey on the palate.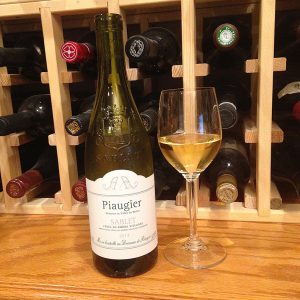 Blend of 35% grenache blanc, 35% viognier, 15% roussanne, 5% marsanne. This is complex, likely not like anything you have tasted before. Aged on the lees until bottling to provide layers of flavor; aged 11 months in two-year-old barrels so there is hint of oak; reasonable acidity, but smooth and savory flavors lead the flavor parade, especially on the mid-palate and finish. A flash of lemon appears on the finish, but I did not notice that first sip—it may reveal with a bit of air or warming in the glass. Dry; medium-full body; vividly ripe fruits.
Domaine de Piaugier is located in the village of Sablet in the Southern Rhône valley. Alphonse Vautour, great grandfather of today's winery owner Jean-Marc Autran, started the winery in a small holding on the top of a hill. He had to haul is wine down the hill to sell it, and when wine merchants and other customers did not come by or did not buy, he had to haul the barrels back up the hill. In 1947, Alphonse built a winery at the base of the hill, next to the road, to make life easier. That's where the wine continues to be made today. Jean-Marc took over the winery from his father, Marc, in 1985; the family now celebrates four generations of winemaking.
Jean-Marc and his wife, Sophie, organically farm 74 acres in Sablet and Gigondas. The grapes for this effort come from 30.9 acres in Sablet; all picking is done by hand; fermentation is by natural yeasts.
The Rhône Valley stretches for some 150 miles in eastern France from Lyon in the north to Avignon and the Rhône Delta near the Mediterranean coast. While there are distinguished names in the north (Hermitage, Côte Rotie) and south (Chateauneuf-du-Pape, Gigondas), the Côtes du Rhône name can be applied to any wine made in the region. Côtes du Rhône Villages is restricted to select number of areas and indicates higher quality; they are identified by the village name, in the case of this bottle, Sablet. Sablet is located immediately north of Gigondas
Domaine de Piaugier Côtes du Rhône Villages Sablet Blanc 2014 is heavy on apricot and peach flavors along with the floral elements provided by viognier. This is much different than your standard whites—not even close to chard, sauv blanc, chenin blanc. Lively and fresh; nice summer sipper for when you want to venture well past your comfort zone and savor liquid peaches and apricots. $19-20