Deep gold color; green apple, peach on faint nose; green apple, pear, pineapple, vanilla, brown spice on the palate.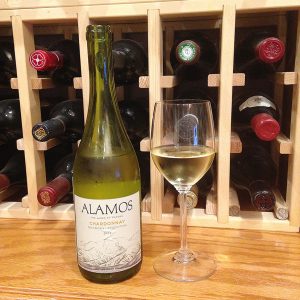 Clean, round style; dry/extra dry; nice acidity (3.51 pH); some citrus zest notes balance the creaminess of 75% malolactic fermentation that adds a pat of butter, thankfully not the entire stick. Four months aging on lees gives some richness and complexity. One-third of juice spent up to six months in French and American oak to impart the spices and oak notes without rousing the oak monster. The remainder fermented in stainless steel for fruit clarity, also in cement, which makes for rounder mouthfeel than stainless. All in all, this chard is deftly done for wine at this price point and production level (approaching 400,000 bottles). This is not "wow" complex chard, but it is dependable, no flaws, palate-cleansing pour at a very nice price.
Alamos is the U.S. production from Bodega Catena Zapata. Gallo owns distribution rights for this wine in the United States, so you should be able to easily find this (and other Alamos varietals). You might notice some name issues—the wine distributed by Gallo in the U.S. is labeled Alamos (Spanish word for poplar/cottonwood tree); the name of the winery is Bodega Catena Zapata (bodega is Spanish for winery), although that name no longer appears on the U.S. label. Faithful followers of my reviews already know of my high regard for Bodega Catena Zapata—one of the three pinnacle producers in Argentina. Alamos is a division of this major maker, even if the label does not proclaim it.
In what happily is no longer surprising, this effort is female directed. The Catena family has made wine in Mendoza since they immigrated from Italy more a century ago. Dr. Nicolás Catena Zapata and his daughter, Laura, run the winery today, with Laura now in the leadership role. They are winemakers and much more. Dr. Catena was a professor of economics at UC-Berkeley in the 1980s and Dr. Laura Catena was an emergency room physician with degrees from Harvard and Stanford before she returned to the family wine business. She splits her time between doctor duties in California and winery leadership in Argentina. Women multi-task so much better than men.
The Alamos winemaker is Lucia Vaieretti. Vaieretti is a second-generation winemaker who worked a dozen years with the Catena family before taking on Alamos responsibilities. She is a mother with four children; her husband also is a winemaker. The Alamos brand ambassador and sommelier is Tatiana Nessier. Nessier is fluent in English, Spanish, and Portuguese and studied to be a sommelier at the Escuela Argentina de Sommeliers. She represents Alamos at the winery and internationally.
The winery and the grapes come from Mendoza, the Napa/Sonoma equivalent in Argentina. Mendoza is due east, over the Andes, from Santiago, Chile, and west, across the country from Buenos Aires. Most often associated with the world-standard for malbec, this bottle and Alamos offerings in general show Mendoza can run with the world's big dogs in wine production no matter the variety of the grape or the wine varietal. [Variety=type of grape; varietal=wine made from that type of grape.]
Alamos Chardonnay Mendoza 2015 is dependable, affordable, available. Enjoy. Pair with white meats, fried chicken, light foods. $9-13
Alamos Wines website
Catena Wines website