Deep ruby color; plum, raspberry, blackberry on the nose; black fruit—blackberry, plum, blackcurrant, black cherry, raspberry, white pepper on the palate.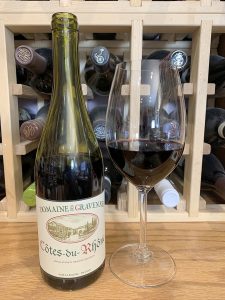 Dry; reserved, pleasant tannins; appropriate acidity. Medium body. Soft overall easy drinker. Semi-bold, not brash. The predominant black fruits add some drama and emphasis, especially late in mid-palate and on finish, but this is not wine that will challenge anyone but novices and barefoot pilgrims to bigger red wines.
Traditional Côtes-du-Rhône GSM blend of grenache (60%), syrah (30%), mourvèdre (10%). Côtes-du-Rhône GSM wines are among my favorites. They are versatile with grenache's savory inclinations and laid-back tannins and adequate acidity. GSMs can achieve high alcohol, which works against food friendliness, but this clocks in at a middle-of-the road 14.5% ABV, and that may be on the high side (ABV do not have to be exact, a quirk of label rules). Wine aged a year in large tonneaux, 10% new, so there is little oak influence.
The winery dates to the dawn of the 20th century. Alphonse Pradelle planted vines on the undeveloped property of Domaine des Gravennes—which means "stony place" in old French. The soil is alluvial and sandy clay, plus the signature galets (pudding stones) of the Rhône. The wines sold locally until his son and daughter-in-law, Raphael and Marie-Louise, decided to up the game with replanting and upgraded facilities.

Now in its fourth generation of owners and winemakers, Domaine des Graveness emphasizes sustainability in the vineyard and elegance and balance in their wines. The winey has been biodynamic for more than a decade. Average vine age is more than 30 years. Domaine des Gravennes is a vineyard and winery in its best form.
Domaine des Gravennes Côtes-du-Rhône 2018 is pleasing, polished, affordable, versatile easy drinker. Classic GSM. In the mid-range of pricing, these are among the greatest QPR (quality-price ratio) wines in the world. Good with food, in fact almost all GSM wines are good with food. Pair with any type of meat that is grilled, roasted, braised, or stewed. How is that for easy versatility? Beef dishes; lamb; wild game—venison; dishes featuring Mediterranean spices—red pepper, sage, rosemary, olives. $13-16