Light gold color; white peach, lemon, honeysuckle, citrus on the nose; peach, citrus on the palate.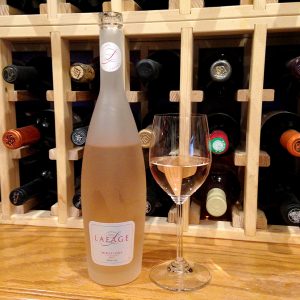 Off-dry, the very bright, excellent light fruit gives distinct illusion of sweetness. Fresh and delicious; medium body with intriguing delicacy and lightness in spite of the weight. Blend of grenache blanc, grenache gris, muscat d'Alexandrie, roussanne, viognier, vermentino, sauvignon blanc. This is classic blending of grenache blanc in Roussillon. The blend percentages slightly change vintage-to-vintage. The vines are located in Roussillon, near the Mediterranean Sea, and planted on deep terraces of sandstone and alluvial gravel—a soil formula for warmth, but the cool breezes off the Mediterranean mitigate.
The grapes are harvested and kept near freezing in oxygen-free conditions until all the grapes are harvested. Then the juice from all the grapes are blended and fermented together. Fermentation is done in cool conditions to make it slow, and before all the residual sugar is gone, the wine is chilled to stop fermentation and kept for four months of contact on the lees, another signature grenache blanc blend technique.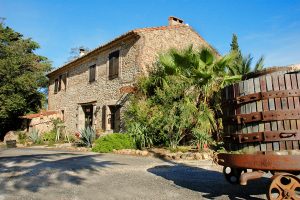 In short the fermentation technique is similar to white zinfandel, except orders of magnitude more sophisticated. As I type, I almost regret the white zin reference—the similarity is stopping the fermentation before it is complete. In this wine, Domaine Lafage stops very close to the end, unlike white zin. Also, the medley of grapes are much different than the commodity haul of zin grapes used in the white zin factories. That said, if you like white zin, I urge you to give this a whirl to expand your palate.
Domaine Lafage Miraflors Blanc 2017 (it is labeled Miraflors Lafabuleuse in Europe) is delicious and substantial for a white wine at this price point. This is an impressive vin de pays ("country wine") that demonstrates how far Roussillon has advanced from its inferior wine days of a decade or more ago. The bottle also is dramatic shape with frosted glass. I shudder to be sexists here, but, ladies, if you find this wine—and American distribution is a focus of the maker—you have an ideal candidate to impress, surprise, and delight your next party. It is a perfect summer day sipper, but it also could work in other seasons as an aperitif or paired with a fruit salad or other light fare. $10-15