Medium purple color; raspberry, brambly fruits, rocks, leather, lavender on the nose; ripe raspberry, blueberry, black cherry, plum, pepper on the palate.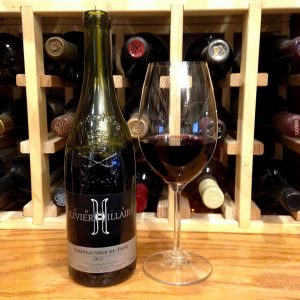 Dry; some grippy tannins on pop-and-pour, but really smoothed out with decanting and became enchanting. Medium-full body, creamy texture. Plenty of alcohol punch: 14.5% ABV. Rich, ripe fruits; delicious and serious. Blend of 90% grenache, 10% syrah. Layers of flavor, just hitting its stride after seven years. Oak is there, but it is completely overwhelmed by the rich, ripe, delicious fruit and balanced by acidity.
This gets better with every sip and with more air. I wish I had decanted after first sip rather than after the first glass. Jeb Dunnuck writing for Robert Parker's Wine Advocate called it "downright sexy." I agree with him.
Olivier Hillaire began his career more than 30 years ago at Domaine des Relagnes. After more than 20 years as winemaker there, the estate sold. Using his considerable charm, he was able to convince the owner of Relagnes—his EX-father-in-law—to rent a couple of parcels to help get himself started with his own label. Of course, Olivier chose the best parcels. There is a nice video link below to what Olivier controls now—including a parcel with vines more than 100 years old. Fascinating look at the rounded rock soil that grows exemplary vines and grapes. Click on the link.
Domaine Olivier Hillaire Châteauneuf-du-Pape 2012 is superb value in Châteauneuf-du-Pape. Excellent fruit that becomes even more approachable after decanting. Excellent depth and complexity. This is way more than good enough to be enjoyed solo, maybe with some light wine crackers and brillat savarin, cotswold, or smoked gouda cheese cubes. Because of its intense, complex flavors, this pairs best with rich red meats; wild game; beef stew; lamb; rich, tomato-based pasta; chili con carne; beef bourguignon; truffle dishes; spicy cuisine. Avoid light meats such as chicken, turkey; avoid shellfish and most white fish varieties—this effort will over-power them. $48-56
Winery has no website; there is an excellent video with Olivier Hillaire and his special vineyard