Deep salmon-pink color; strawberry, cantaloupe, honeysuckle, flowers on the nose; strawberry, apricot, cherry on the palate.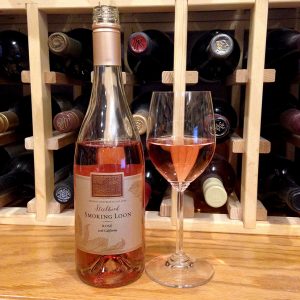 Dry; soft and gentle in the mouth with vivid strawberry flavor; good acidity (3.47 pH). Very simple easy drinker. Blend of 60% barbera, 27% syrah, 13% grenache; 12% ABV. Some balance, crisp.
Bottle has a gimmick: when chilled to the proper 50 degrees, feathers in the lower left corner of the label turn pink. Smoking Loon is a Don Sebastiani & Sons brand started in 2001 with goal of producing easily affordable wines that are "a little bit irreverent, very amusing, and always delectable."
The Sebastiani wine story dates back to Samuele Sebastiani's first wine made in 1904. Don Sebastiani and his two sons, Donny and August established Don Sebastiani & Sons in 2001. Today, Donny Sebastiani—great-grandson of Samuele, the Sebastiani patriarch—leads the company.
The website notes: "Rooted in the historic Sonoma Valley since 1904, with additional winery operations in Napa Valley, the family-owned company encompasses complementary beverage categories, including a robust portfolio of wines sourced from premier growing regions throughout the world; and a line of award-winning spirits, including Contigo, El Fumador, and El Macho artisanal tequila brands hand-made in Jalisco, Mexico."
Don Sebastiani & Sons primarily is a negociant wine company, meaning they purchase bulk wine sourced from many growers, then blend, bottle, and brand. They make more than 1.5 million cases a year, and Smoking Loon easily is the biggest production of Don Sebastiani & Sons. Introduced in 2001, it may account for half of Don Sebastiani & Sons production.
Smoking Loon Steelbird Rosé 2018 is simple, serviceable, and inexpensive. Works an aperitif or for solo sipping on patio, deck, or poolside; pair with poultry beef, lamb, pork, spicy food, mild and soft cheese. $8-10
There are no photos of winery or vineyard on Smoking Loon website.