Deep ruby, inky dark color; blackcurrant, blackberry, black raspberry, sour black cherry, spice on dense nose; blackcurrant tang, plum, blueberry, tobacco, leather, spice on the palate.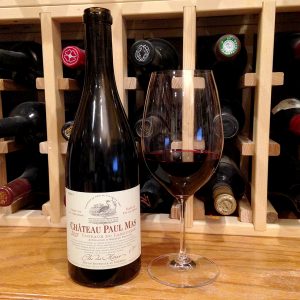 Dry; full body; tart blackberries, dark fruits, blackcurrant tang dominate; "mûres" is French for blackberry. Cedar and minerals appear on the finish. Reserved tannins and acidity. Blend of 85% syrah, 10% grenache, 5% mourvèdre. Decanting smooths this some, but it remains tart after the air. Oak is there as a background note delivering spice; aged nine months in French and American barrels, 30% new, 35% second use; 35% third use.
Grenache adds an intermittent hint of fruity sweetness, mourvèdre deep, dark color, but the dominant syrah delivers big blackberry, bramble, touch of black olive to this big-red-wine effort. Syrah-grenache-mourvèdre is classic blend of southern Rhône, but there grenache typically is the lead grape (GSM). This effort comes from the Languedoc to the southwest of classic GSM regions such as Chaeauneuf-du-Pape and Gigondas.
Château Paul Mas is located in the Languedoc between Pézenas and Montpellier, just six miles from the Mediterranean. Languedoc has produced wine since the time of Christ. The Château Paul Mas story began in 1892 in St. Pons de Mauchiens, near Domaine de Nicole, where the Château is located—the extended family today owns more than 1,100 acres of vineyards. Jean-Claude Mas started Domaines Paul Mas in 2000 on 42 acres of family land.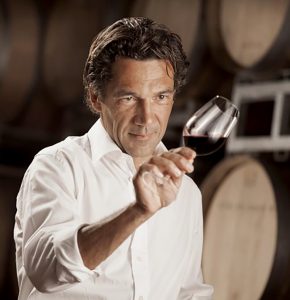 The winery website notes Jean-Claude escaped from his mother at age three to join his grandfather in the wine cellar. He studied economics and advertising at university, and wine was relegated to an active hobby. He created a wine club in northern France (far away from his Languedoc roots), an import company in England, and an import company for organic wines in Miami that brought in French wine and food products. He also was a professional automobile racer for three years.
Jean-Claude then returned to his first love. He first worked in Bordeaux; in the mid-1990s he began blending his family wines at Nicole Estate. He often is described as a pioneer in the "New Languedoc"—the ongoing movement to take the region from being a "wine lake" of mediocre stuff into its new era of higher quality, affordable wine. Fortunately, this new emphasis is succeeding, just as similar efforts are succeeding in other wine regions in the world, to the joy of wine drinkers everywhere.
Paul Mas emphasizes sustainable viticulture, is certified Terra Vitis and organic, and follows biodynamic wine production practices in select vineyards.
Click here for column on organic vineyards
Click here for column on biodynamic viticulture
The winery and vineyard also is a showcase for local and national artists and craftspeople. The website is worth a visit for its photography and videos.
Domaines Paul Mas Coteaux de Languedoc Château Paul Mas Clos des Mûres 2015 is serious red wine; the strong tang and blackberry-black raspberry attack is not for everyone—I can easily see a lighter wine lover recoiling from the tartness and power of this dark-fruit onslaught. If you enjoy strong, hedonistic flavors, however, you should give this a try, especially paired with beef or other rich foods—beef, lamb, venison and other wild game, strong cheese. $18-20