Medium straw color; green apple, citrus, pepper, bees wax, spice on the nose; green apple, pear, grapefruit, mango, citrus, lemon, minerality on the palate.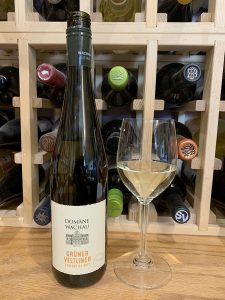 Dry; very crisp and clean. Light body. Fresh. Good acidity without being sharp. Grüner is such a good alternative to sauv blanc and unoaked chardonnay, it is surprising so few U.S. wine drinkers know about it. This vintage has an interesting citrus and grapefruit pith finish that will escape you when fully paired with food. I paired with chicken parmesana, but last glass was sipped after the meal. With the meal, this was superb. Final glass, not so much—by no means terrible—which underscores, for me, how excellent grüner can be paired with food. 12% ABV
Domäne Wachau manages 30% of the historic Wachau vineyard area—almost 1,000 acres—including half of Austria's most iconic vineyard, Achleiten. The winery is led by Master of Wine Roman Horvath. His team works with a collection of growers committed to quality assurance. That is not surprise. Austria imposes very stringent wine regulations, and the Wachau region goes beyond those regulations for Steinfeder, Federspiel (this example), and Smaragd. Furthermore, the Wachau is a UNESCO World Heritage Site stretching along the banks of the Danube. Many of the vineyards—such as Domäne Wachau are steep and terraced with very old, dry stone walls. This is a special wine from a special place.
Domäne Wachau Grüner Veltliner Federspiel Terrassen 2021 is clean, balanced, fruity easy drinker. Consistently excellent example of Austria's signature white grape. Exceedingly excellent food wine. This shines when paired with food. The name works against it, so just look for grüner and don't worry about your German pronunciation. Serve well chilled.
Pair with seafood and lean fish; baked or roasted poultry; traditional wiener schnitzel (a national dish of Austria); risotto; potato soup; potato and cucumber salad; vegetarian fare; cured meats, charcuterie board. Cheese— appenzeller, bucheron, chevre, sheep-milk feta, gouda, havarti, mahon, pave affinois—if a cheese pairs with riesling, it will pair with grüner. If you are into surprising friends who are not sophisticated about wine and wine-food-cheese pairing, this is go-to wine to spring upon them. This is worth a try, trust me on this. Excellent QPR (quality-price ratio). $16-19