Deep purple color; cherry, plum, brown spice on the nose; blackberry jam, plum, black cherry, raspberry on the palate.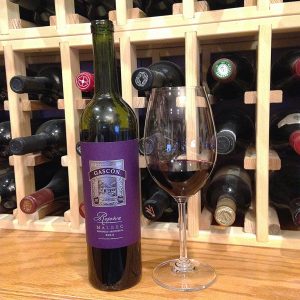 Dry; smooth, dusty mouthfeel, very reserved tannins, classic Mendoza malbec; improves with decanting. Plenty of oak—65% of the wine was aged 15 months in combination of medium toast French and American barriques. Even with that, the vanilla, chocolate, and spice are somewhat subdued. Not an oak monster, but trees clearly are there. Malolactic fermentation definitely smooths this out.
This pour is why people put off by cab's assertiveness and merlot's bashfulness have made Argentine malbec a star. Malbec deftly lands in the middle. Blend of 94% malbec and 6% petit verdot. The petit verdot should provide more chocolate, but I do not get that—try a bottle, maybe you will. Regardless, this is nice, food-friendly bottle of affordable wine.
Gascón is a Gallo product now, which means it is widely available and well-managed. The Reserva is more serious, rounder, more polished, with darker fruit flavors than the year-younger Gascón Malbec Mendoza, but both are solid malbec performers.
Gascón began in 1884 when Don Miguel Gascón started a winery in Mendoza in the shadows of the snow-capped Andes. Vivid sunlight from the high elevation, alluvial soils, pure mountain snowmelt allowed for the production of wines with brilliant color and intense flavor. That allowed malbec, sort of a stepchild blender in Bordeaux, to star on the world stage as a varietal from Argentina. Today, 75% of the malbec made in the world comes from Argentina, and the best malbecs come from Mendoza. Wine is about place and grape and human skill coming together to create something special and delicious. That is exactly what Argentinian malbec is.
Don Miguel Gascón Reserva Malbec 2015 is mainline malbec. It does not deliver layers of depth and complexity, but you seldom find that from a wine at this price. Appreciate this for what it is—a consistent easy drinker at a nice price compared to its red wine brethren. Pair with red meats, barbecue, pot roast, pork tenderloin, salmon and halibut, roast chicken, tomato-based pasta dishes, spicy Mexican and Indian foods—all demonstrating malbec's wonderful versatility as a food pairing wine. $17-25