Deep ruby color; blackberry, plum, black tea, herbs on the nose; raspberry, blackberry, plum, licorice on the palate.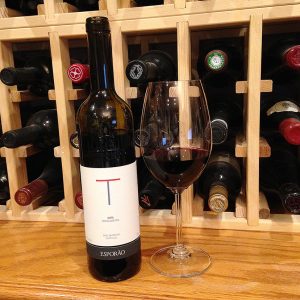 Dry; juicy with good acidity, tannic pop and rusticity calms down with air and velvety mouthfeel moves forward. No oak—juice ferments six months in cement tanks. Relatively light body, some complexity, pleasant and long finish.
Trincadeira or tinta amarela is one of the most-plated grapes in Portugal. In addition to red wine, it also extensively is used in making Porto (port wine). It is the oldest and most widely planted grape variety in the Alentejo region, where this wine comes from. It also is a very difficult grape, highly susceptible to rot and challenging at harvest—pick too early and the crop lacks flavor, pick too late and the grapes are overripe and produce flabby, jammy wine. Herdade do Esporão avoided these pitfalls, which resulted in deeply colored, rich-flavored wine with distinctive flavor elements. Because of trincadeira's "girl with a curl" tendencies, Portuguese growers are turning to other grapes, making trincadeira efforts harder to find and enjoy. This effort argues they should not give up on trincadeira to chase after the newest shiny thing in the wine world.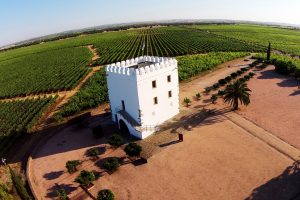 Herdade do Esporão traces its roots back to 1267, making it one of the oldest estates in Europe—the estate's boundaries are virtually unchanged for 750 years. Upon purchase of the estate, Esporão fully restored Herdade's medieval tower, which now serves as the symbol of the winery. João Roquette leads the second generation of ownership; David Baverstock and Sandra Alves are the winemakers. The winery is a major player in Portugal and consistently produces excellent wines that are astonishing values—even their cheapest wines work well (and the upper levels even better). This middle-shelf effort is no exception. The chief winemaker is Australian-born David Baverstock, Sandra Alves also participated in this vintage.
Herdade do Esporão Trincadeira T 2015 is great value and seriously enjoyable wine for the serious wine drinker. If you are turned off by tannins, decant and see how it delightfully comes around. That said, even after ample air this will still put pucker on your cheeks and tongue. Thus its affinity for pairing with beef and flavor-infused fowl. Pair with  bifa a Portuguesa (steak with ham and eggs), roast pork, meat lover's pizza, paella with chicken and shellfish, roast duck or turkey, Argentine empanadas stuffed with beef, onions, olives, hard-boiled egg, and raisins. $12-16