Medium straw color; peach, lemon, citrus, diesel, minerality on the nose; white peach, green apple, Meyer lemon, apricot, honey, minerality on the palate.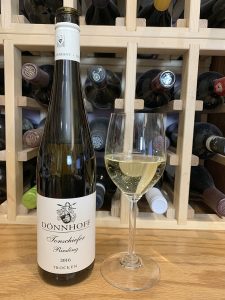 Dry; trocken is German term for dry. While trocken is dry, a few grams per liter of residual sugar is allowed, so this is not what you experience with a dry or bone dry chardonnay, sauvignon blanc, or other white wine. The other German nomenclature includes halbtrocken (off-dry), lieblich (sweeter), süß (sweet). This is excellent example of modern, increasingly popular dry riesling, a far cry from the sweet style popular many years ago.
Vibrant acidity, vivid aromas. Fermented in stainless steel and used, large oak, so only slight oak influence. Delicious with its slightest hint of sweetness and its phenolic (non-sugar) illusion of sweetness from wonderfully ripe fruits. Nice balance of trocken elements with cutting acidity—the secret of superb riesling. Riesling is the king of wines that can present a touch of sweet with outstanding acidic counterpoint. Other grapes typically can give you one or the other, not both. It is reason riesling is such exquisite food wine and rates as one of the great wines in the world.
Typically lower alcohol also is another reason riesling is great food wine. This is 12% ABV, which is dead-center-perfect for food. Medium body. By the way, "diesel" in the aroma description is not a negative. Diesel or petrol is a common aroma in quality riesling; it is an aroma compound identified as TDN (1,1,6-trimethyl-1,2-dihydronaphthalene). It also can be called petroleum wax.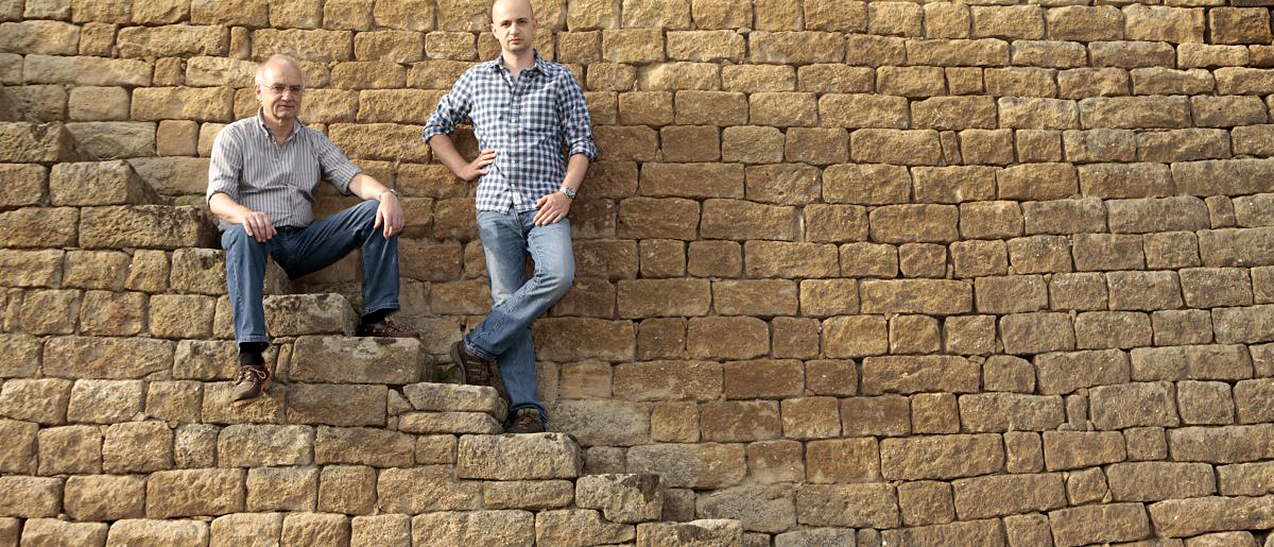 The Dönnhoff Family has called Oberhausen an der Nahe home for more than 250 years. The Nahe valley runs from Niederhausen to Schloßböckelheim. The first official mention of Dönnhoff dates from 1761. Family history notes a bumper crop of grapes in 1784. Helmut Dönnhoff runs the estate today; his grandfather "laid the cornerstone for the estate's success" according to the website.
Tonschiefer means "clay slate", the soil that dominates the vineyard. The vineyard for this wine is the original family block. Today, they practice sustainable farming. The website notes: "The hill just to the left of the vineyard is called the Lemberg, and with the Leistenberg on the other side, these hillsides form a valley. Cold air from the Hunsrück blows through the area, passing by the Leistenberg making it impossible for botrytis to develop. Further, the exposition is southeast rather than due south like the Hermannshöhle. This means longer ripening and lower potential [alcohol]."
Dönnhoff Tonschiefer Riesling Trocken 2016 is versatile, thoroughly enjoyable wine. Excellent introduction to quality trocken riesling at affordable price (for this quality). The balance of trocken hint of sweetness and splendid acidity is inspiring on your palate. Tasty enough to work as a change-of-pace aperitif—or enjoyed at the end of a progressive dinner. Easily can be relished by itself or with wine crackers, charcuterie. Pair with pork; shellfish; crab; sushi; spicy food, including spicy Asian dishes; poultry; cured meats. $28-32
Skurnik Wines & Spirits, U.S. importers of this wine, webpage for this wine
U.S. importer webpage for the Dönnhoff winery