Deep ruby color; brambly red and black fruits with spice notes on the nose; plum, red cherry, blackberry, blackcurrant, minerality on the palate.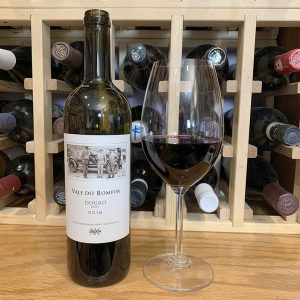 Dry; medium-full body; some rusticity and tannin. Benefits from decanting, becoming smoother and more integrated, but also can be enjoyed pop-and-pour. Good acidity and balance. Rich and distinctive berry flavors throughout. Blackcurrant tang hits in late mid-palate and medium-long finish. Some subdued oak from six months in French wood; 13.5% ABV.
Blend of 30% touriga franca, 20% touriga nacional, 50% field blend (likely a mix of the identified varieties). Sourced from Quinta do Bomfim and Quinta da Senhora da Ribeira in northern Portugal. The vineyards also provide grapes for the House of Dow's premier Port offerings.
Vintage 2016 was testy year—warm winter followed by cold spring. Both seasons were exceptionally wet; by August, the vineyards had received a year's worth of rain. Fortunately, the weather eventually cooperated, grapes achieved phenolic ripeness, and dry and sunny weather allowed the grapes to be harvested in good condition.
Like many Portuguese wines, this is a lot of wine for the money and a flavor adventure that takes you out of your bland factory wine comfort zone. For years, the Symington's—famous for their Dow port wines—made this as a house wine, but after entreaties they deigned to produce some for export to the U.S., where it quickly received praise and now is a staple of QPR (quality-price ratio) plaudits from the wine pundits, particularly those who savor adventure.
In addition to this wine, Symington Family Estates makes Porto and Madeira wines. Symington enjoys the largest vineyard ownership in the Douro. The company was founded by Andrew James Symington, who arrived in Oporto from Scotland in 1882. He initially joined Graham's. In 1905 he was a partner in Warre & Co and in 1912 a partner in Dow's Port. In 1970, the family bought both Graham's and Smith Woodhouse. In 1989 the family became a partner in the Madeira Wine Company, at that time controlled by the Blandy family. They now control Cockburn's, Graham's, Warre's, Dow's, Smith Woodhouse, Gould Campbell, Quarles Harris, and Martinez—by far the strongest Porto portfolio in the world. Symington's Madeira holdings include Blandy's, Cossart Gordon, Leacock's, and Miles—making them the major player in Madeira wine.
In 1989, the Symingtons purchased Quinta do Vesuvio, which they consider the finest Porto quinta in the world, from the Ferreira family. In 1999, they added Douro dry wines to their portfolio, of which this bottle is an example.
Dow Vale do Bomfim Douro DOC Red Wine Blend 2016 is a soft, easy drinker with excellent fruit that may be new to you. Improves with air, which tones down its brambly rusticity. That brambly rusticity also is component of its charm. It never becomes placidly smooth and boring. Pair with grilled meats, burgers, pizza, hard, flavorful cheese, chouriço—Portuguese version of chorizo, where the acidity will cut through the fat, also with herb-roasted lamb, venison and other wild game where the gaminess of the meat will play well with the rustic elements of the wine. $11-14