Deep garnet-medium tawny color; red cherry, almonds, vanilla, toffee on vivid nose; cherry, orange marmalade, plum, caramel, chocolate on the palate.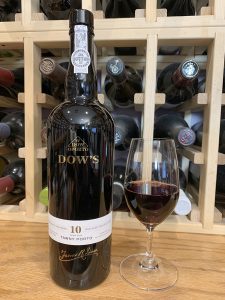 Sweet—115 grams per liter of residual sugar—with nicely balancing acidity. Rich, nutty, very tasty. Full body. Delivers power and fruity deliciousness rather than depth and complexity, but that is not a flaw for a 10-year-old tawny. You want more, go for the more expensive 20-plus year old offerings.
Tawny porto (port) gets its distinctive flavor from contact with oak and oxygen. Tawny ports are made with red grapes, then aged in oak barrels that expose them to oxidation and evaporation. The oxidation delivers nutty flavors. The evaporation concentrates flavors. In 10-year porto, one-quarter of the original wine evaporates. That which is lost is called the "angels share", the same process in long-aged spirits and Madeira, and the reason for the cost. And the reason such efforts so pleasure your palate; 20% ABV.
Dow's controls the oak influence by aging some of the wine in balseiros with capacities ranging from 1,300 to 2,600 gallons. As a result, oak is dialed back and bright fruit characteristics are not smothered by wood. Significantly delicious. Ideal to sip on a cold, snowy day in front of a crackling fire. Also, in its traditional role as a dessert wine.
While this is something of an entry level tawny porto—you will pay twice as much for the more complex 20-year tawny—still there is expense. On the plus side, a serving of porto is only a few ounces and, when stored appropriately—away from light, around 55º F—this 750 ml bottle of wine can last for six months or more and is very likely to improve as it ages after opening. Think about that—a wine that gets better after you open it. The "10 year" designation indicates an average age. Some of the wine in this blend is older, providing complexity. Other parts of the blend can be younger, delivering fresh fruit flavors and vibrancy.
At a price under $40, this is porto bargain. Premier tawny portos sell for $1,200-$7,000. For an added kicker, various sources estimate it will improve past 2050. Welcome to the long game of porto. Classic style from premier maker. The Symington family dominates Porto and Madeira production in Portugal because they are so good at it.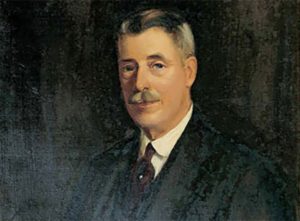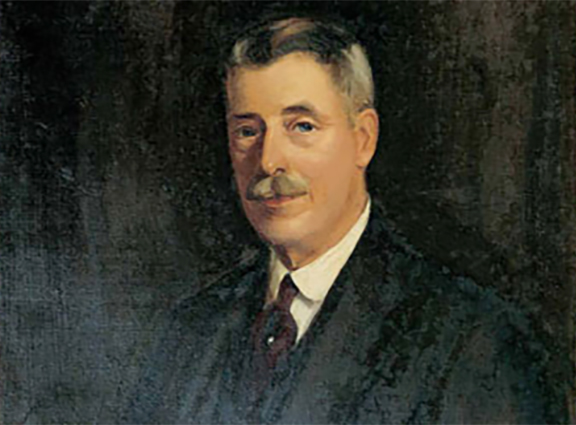 Andrew James Symington became a partner in Dow's in 1912. In 1970, the family bought both major porto makers Graham's and Smith Woodhouse. In 1989 the family became a partner in the Madeira Wine Company, at that time controlled by the Blandy family. They now control Cockburn's, Graham's, Warre's, Dow's, Smith Woodhouse, Gould Campbell, Quarles Harris, and Martinez—by far the strongest porto portfolio in the world. They have the largest vineyard ownership in the Douro.
Dow's 10 Year Tawny Porto is delicious with excellent fruit, superb mouth feel. This is liquid dessert with the complexity and sweetness to pair with many dessert dishes. Impressive on several levels. Decadence at its best. Serve chilled around 55º F. Pair with sweet pastries; apple pie; fruit tarts; fruitcake; dried fruits; vanilla ice cream; crème brûlée; flan; blue Stilton cheese, soft-ripened cheeses such a double cream cow's milk cheese. $28-38
Symington Family Estates website