Deep ruby color; raspberry, bell pepper, strawberry on the nose; raspberry, strawberry, tobacco, oak on the palate.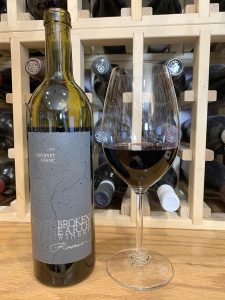 Dry; bold, assertive; dusty tannins that come around after decanting. Full body. Massive dark fruits somewhat mask significant alcohol—15.7% ABV. Interesting how very assertive fruitiness disguises what can be burn on the finish. Still, if you are drinking this, remember this packs a punch. Good acidity for a red wine (3.42 pH), which helps give it balance.
Paso Robles effort. You don't typically associated California or Paso Robles with a 100% varietal using cabernet franc. In U.S., cab franc is more the domaine of Finger Lakes in New York State, where cooler temperatures hold back some of the florid fruitiness and extravagant alcohol possible with the grape. Paso Robles, however, delivers sultry heat. Winery notes: "Paso Robles' climate has the ability to get it [cab franc] ripe on its own and we are confident, and excited, to release this 100% varietal."
Pump overs—which emphasize flavors and make for rich reds—were performed twice a day during fermentation. The wine was pressed off the skins and malolactic fermentation began, lasting a month. Wine then transferred to new hybrid oak and new French oak barrels, where it spend more than a year. There is significant oak here, but—as with the alcohol—the richness of the red fruit and the acidity holds everything together.
The website notes: "This was our first crop of Cabernet Franc from our estate vineyards and a much anticipated one. It is a very robust style that retains elegance and finesse. It is quite firm on the palate but the masses of spicy fruit and balancing oak compliment the grip nicely. The color is deep and intense reflecting the wine's brooding nature. Bright natural acidity will ensure this wine ages for many years." That is accurate appraisal of this wine, tracking well with my experience.
The winery began when Herman Schwartz purchased the property in 1973 and planted 520 acres in grapevines. He embraced sustainable farming techniques, which continue today. There are energy-saving tank temperature control systems. The winery is powered by a solar array. Solar provides the hot water at the winery. More than 360 acres of trees have been planted.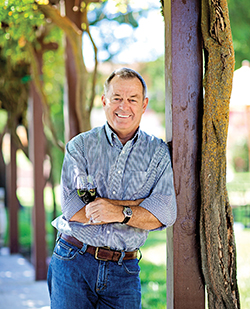 Chris Cameron is the director of winemaking. He is veteran of more than 30 vintages, including the past four in Paso Robles. Prior to that, he worked in Australia, Italy, France, and Turkey. He is an advocate of minimalist intervention. The wine is made in the vineyard, and Cameron believes his job to to allow the vineyard to express itself in the wine. Bravo. A video on the website narrated by winemaker Christ Cameron is worth watching.
Broken Earth Winery Cabernet Franc Reserve 2018 is significantly rich and bold 100% cabernet franc effort.
Pair with barbecue; pasta with tomato-based sauces; grilled and roasted red meats; lamb; wild game; meatloaf; shepherds pie; roast chicken; pork; sausage; veal; duck; hard cheese. $51