Medium yellow color; yellow apple, lemon, peach on the nose; yellow apple, lemon, grapefruit, citrus, saline on the palate.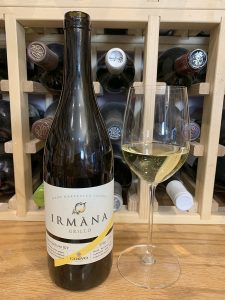 Dry; simple and straightforward, but with elements of richness. Medium body. Relaxed acidity. Tasty, easy drinker. This is simple sipper that surprises you, especially as it ages in your glass. It has some body and a nice touch of salinity on the finish, which sets it up nicely for fish and vegetable dishes. Hand-harvested grapes from major Sicilian maker. Made completely in stainless steel, so no oak. No tannins. 12.5% ABV
Grillo often is referred to as a fuller, funkier alternative to pinot grigio or sauvignon blanc. The vines can withstand high temperatures and drought and still produce copiously. It is a signature white in Sicily, where most of the grillo vines in the world are grown. Besides a varietal bottling such as this, grillo can be blended with chardonnay, and is principal ingredient in marsala, a fortified wine made in area around the city of Marsala in Sicily. It is not an ancient grape. DNA analysis indicates it is a cross between catarratto and zibibbo, a biotype related to muscat of Alexandria. It likely was created by Antonio Mendola in 1873.
There are grillo wines made in an old style with extended skin contact and exposure to oxygen. Those wines are earthy and spicy. The modern approach—this bottle is an example—has limited skin contact and exposure to oxygen. That approach yields wine with grapefruit and lemon elements and crispy fruitiness. This is an example. They should be drunk young and well chilled.
The Duca di Salaparuta Group owns three historic brands. Duca di Salaparuta and Corvo founded in 1824 and Florio founded in 1833. The Reina family combined the brands to create the largest private wine group in Sicily. Don Guiseppe Alliata di Villafranca, prince of the Holy Roman Empire, Grand of Spain and Duke of Salaparuta, founded the winery which remained under family ownership until 1960.
The Duca di Salaparuta label is a collection of super-premium wines with most classified as Sicilia IGT, the classification of this effort. They operate three separate estates. SuorMarches in Riesi, Risignolo in Salemi in the western part of Sicily, and Vajasindi on the slopes of Mount Etna towards the east coast. The label also has a range of single-estate wines from around Sicily and some blended wines, a brut spumante, and the Ala dessert wine. The tech sheet only states these grapes were grown in central Sicily, so some grapes may not have been grown in Corvo vineyards.
Duca di Salaparuta Corvo Irmàna Grillo 2019 is a medium-body white wine that eventually sneaks up on you with some layers of complexity you don't get in the pop-and-pour. Made with Sicily's signature white grape, this is excellent change-of-pace white. Think of it as a rowdier, earthier, unconventional alternative to pinot grigio/gris or sauvignon blanc. At its price point, there is no reason not to give it a swirl and sip. Pair with shellfish; grilled white meats; vegetarian fare; appetizers and snacks; goat cheese. $10-13
Duca di Salaparuta website; pleasant video on the winery