Medium ruby color; raspberry, red fruits, spice on the nose; raspberry, red plum, blueberry on the palate.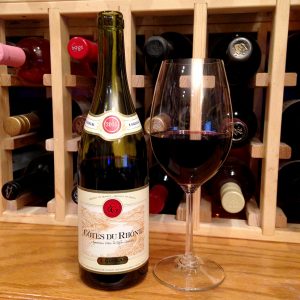 Dry; full body; dusty tannins on pop-and-pour, significantly benefits from decanting. Blend of 50% syrah, 40% grenache, 10% mourvèdre—E. Guigal's take on a GSM blend. Good acidity, even approaching racy. Solid fruits throughout; medium-long finish.
This is E. Guigal's entry level red with average production of four million bottles, so it is accessible and well priced. The wine spends 18 months in oak foudres—very large vats that can contain up to 8,000 gallons, thus significantly reducing oak influence. Foudres are common in Rhône winemaking. An 8,000-gallon foudres can produce more than 22,700 bottles (750 ml) of wine.
E. Guigal was founded in 1946 by Etienne Guigal in Ampuis, the village in the heart of the Côte-Rôtie appellation in the northern Rhône, a place where wine grapes have been grown for some 2,400 years. Etienne's son, Marcel, took over management of the operation in 1961 when Etienne suddenly was struck with blindness—although Etienne regained some sight and participated in the winery until his death in 1988. Marcel's wife, Bernadette joined the team in 1973, and today their son, Phillippe, is the winemaker working alongside his wife, Eve. Philippe speaks superb English and when interviewed provides precise and informative explanations of both Guigal, the northern Rhône, and wine in general. Worth a watch or listen—a Google search will give you numerous links. One is included below.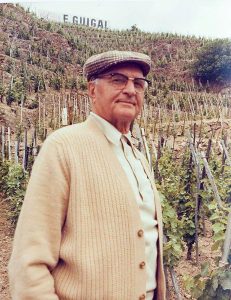 Widely respected as a mega négciant, Guigal put Côte-Rôtie on the wine map in the 1980s by delivering consistent-to-superior quality wine. Until then, the region was something of a wine backwater, particularly because the the prices needed to make winemaking pay in the testing, highly sloped region. E. Guigal deserves a lot of the credit for the Côte-Rôtie and adjacent Crozes-Hermitage—source of this offering—quality ascendency. Three regions—Côte-Rôtie, Hermitage, Crozes-Hermitage—are basically next to each other. Guigal bottlings are the benchmark pours for the entire region.
E. Guigal's Côtes du Rhône offerings are similar to labeling California wines "Central Coast" or other fairly broad designation that means the grapes came from multiple growers over the region. These are the second-tier grapes, which does not mean they are bad. They are less expensive, a notch less quality—but a notch less quality in Côte-Rôtie and adjacent plots still means pretty good juice.
In 2017, Drinks International named E. Guigal the most-admired French wine brand. The judging criteria included: consistently improving quality; reflection of regional terroir and country of origin; marketing and packaging and broad global brand appeal. No small thing.
E. Guigal Côtes du Rhône Red 2015 is tasty, round, easy drinking and easy on the wallet, go-to everyday red wine, plus a bit more. E. Guigal is one of the most consistent makers in the Rhône region, notable for paying top prices for Côtes du Rhône grapes. This is their entry-level effort, but it drinks like bottles costing twice as much. Expect a dark, assertive wine with acidity, tannin, rich fruit flavors, layers of depth. Marvelous for a wine at this price point. Pair with red meats; game birds; cold cuts; flavorful cheeses; just about anything you would pair with a tasty cab blend, Italian or Spanish red. Very versatile wine. $14-19
Wine Spectator video of Philippe Guigal