Pale ruby color; red berries, cedar, violet flowers on the nose; raspberry, cranberry, plum, cherry, smoke, hints of tropical fruit on the palate.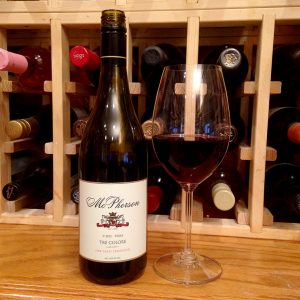 Dry; light body and light tannins and acidity. Subdued fruit, so this drinks something like an etherial Willamette Valley pinot noir. Blend 50% cinsault, 40% carigan, 10% viognier. The cinsault (pronounced "sin-so") provides raspberry, red fruit and floral elements. Carigan supplies cranberry and raspberry, maybe tobacco leaf. Viognier adds additional floral notes and tropical fruits. None of the grapes deliver much tannin, so is very light and easy to drink on pop-and-pour. Serve cooler than most red wines.
For years, the issue with Texas wines—and this is made in Texas with 100% Texas grapes—was there was not enough production to make it economically viable to sell outside the state. That is changing. Texas now plays in the same league as wines that are not made in California, Washington, Oregon, and New York. Texas has more than 320 wineries, just behind New York and ahead of Virginia and Pennsylvania.
The grape supply problem is being solved with increased vineyard acres and production on the Texas High Plains around Lubbock, where these grapes were grown and the wine produced. The Texas High Plains AVA is the dominant grape-producing region of the state.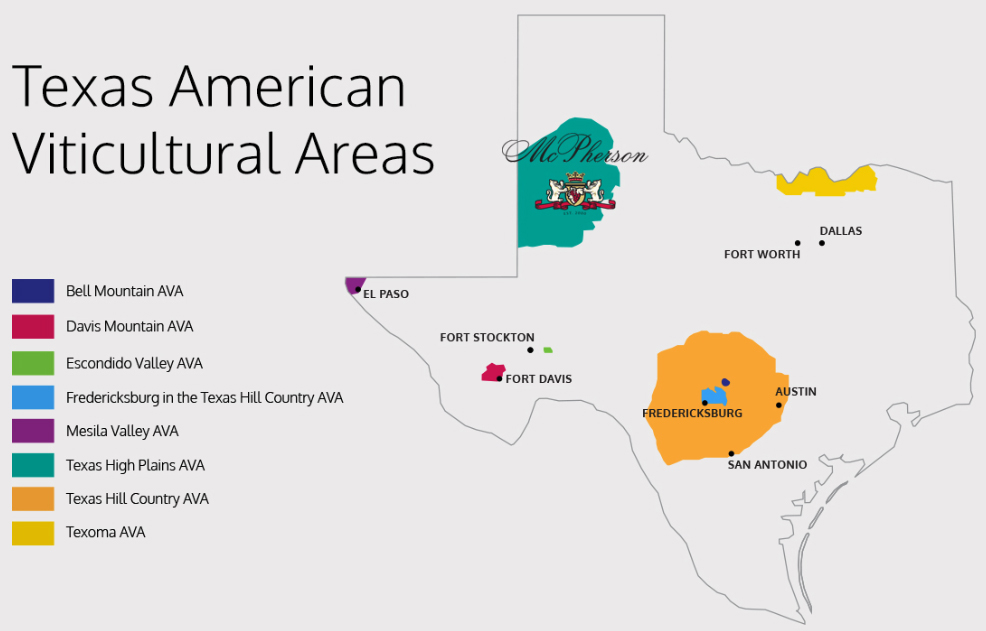 Texas wine trouble: Texas-proud wine drinkers buy Texas wines even when the price does not match the quality. For years they have purchased virtually everything Texas wineries could make, thus no need to seek wider distribution. The wineries, however, are yearly increasing production. Same time, the rest of the world has discovered several Texas wineries make very good wines—McPherson is such a winery. McPherson even makes a wine with Dave Phinney of Orin Swift Cellars and The Prisoner fame. That effort—Locations Wine—featuring signature wines from around the world. McPherson provides the "TX" labeled wine in that worldwide portfolio.
Winemaker Kim McPherson is the son of Dr. Clinton "Doc" McPherson, one of the founders of the Texas wine industry. In 1976, Doc—a chemistry professor at Texas Tech—and Bob Reed founded the Llano Estacado Winery in Lubbock, one the first post-Prohibition wineries in Texas. Kim graduated from Texas Tech with a food science degree, then the enology and viticulture program at Cal-Davis. He worked at Llano Estacado, then Cap*Rock until starting his own label in 2000. Kim converted a 1930s-era Coca Cola bottling plant into a winery in downtown Lubbock in 2008. Tre Colore is a pure Texas play; grapes grown in Texas, wine made in a Texas winery located on Texas Avenue in downtown Lubbock.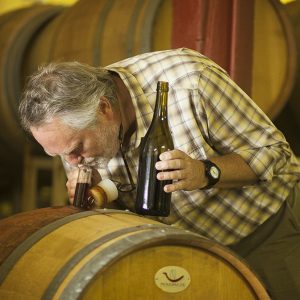 McPherson Cellars Winery Tre Colore 2015 scores nicely as a red wine for folks who want an alternative to rich, tannin, oaked reds. If you live in Texas, this is fairly easy to find—HEB (largest supermarket chain in Texas) carries it, for instance. Out of state, it is available but harder to find. Depending on where you live, it can be available online through the winery.Versatile with food, also can work as a surprise aperitif change-of-pace or sipped by itself around a pool, fire pit, or picnic with light foods. Pair with lighter fare, but there is enough here to go with barbecue; grilled quail; grilled pork; tacos al pastor. $11-16