Medium copper color; strawberry, cherry, red fruit, sniff of citrus on the nose; strawberry, plum, blood orange, raspberry, red grapefruit on the palate.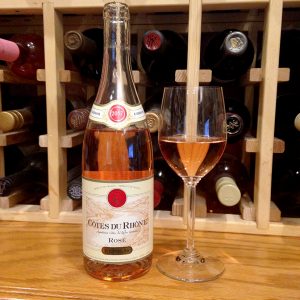 Dry; very full bodied; rich and round in the mouth. Blend of 70% grenache, 20% cinsault, 10% syrah. Elements of minerality and spice are framed by good acidity and freshness. With E. Guigal you know you are going to get a delicious, interesting experience when you pull the cork; this does not disappoint; 13.5% ABV.
Aged in stainless steel tanks, there is no oak influence, allowing the tasty fruits to flaunt their flavors. The richness and fruit-forwardness of this will surprise people who shun rosés. Shame on them, as they will understand after tasting this effort. Expected response: "I am not much of a rosé fan, but I really liked this wine." Ahem. And amen.
E. Guigal was founded in 1946 by Etienne Guigal in Ampuis, the village in the heart of the Côte-Rôtie appellation in the northern Rhône, a place where wine grapes have been grown for some 2,400 years. Etienne's son, Marcel, took over management of the operation in 1961 when Etienne suddenly was struck with blindness—although Etienne regained some sight and participated in the winery until his death in 1988.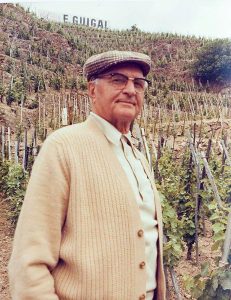 Marcel's wife, Bernadette joined the team in 1973, and today their son, Phillippe, is the winemaker working alongside his wife, Eve. Philippe speaks superb English and when interviewed provides precise and informative explanations of both Guigal, the northern Rhône, and wine in general. Worth a watch or listen—a Google search will give you numerous links. One is included below.
Widely respected as a mega négciant, Guigal put Côte-Rôtie on the wine map in the 1980s by delivering consistent-to-superior quality wine. Until then, the region was something of a wine backwater, particularly because the the prices needed to make winemaking pay in the testing, highly sloped region. E. Guigal deserves a lot of the credit for the Côte-Rôtie and adjacent Crozes-Hermitage quality ascendency. Three regions—Côte-Rôtie, Hermitage, Crozes-Hermitage—are basically next to each other. Guigal bottlings are the benchmark pours for the entire region. Côtes du Rhône is a generic name for wines produced on the slopes/banks (côtes) of the Rhône River in eastern France.
E. Guigal's Côtes du Rhône offerings are similar to labeling California wines "Central Coast" or other fairly broad designation that means the grapes came from multiple growers over the region. These are the second-tier grapes, which does not mean they are bad. They are less expensive, a notch less quality—but a notch less quality still means pretty good juice.
E. Guigal Côtes du Rhône Rosé 2017 is profoundly rich, round. You don't expect a rosé to be this big, to deliver such impressive substance—you can pair this wine with food you typically would pair with red wines. Vivid fruit. Pair with salmon cakes; spicy seafood stew; grilled chicken with sweet onions and peppers; bacon-lettuce-tomato sandwich; lamb with herbs; even can work with barbecue. $14-17
Wine Spectator video of Philippe Guigal