Pale yellow color; Meyer lemon, citrus, tangerine, blade of cut grass on the nose; tangerine, lemon, peach, grapefruit on the palate.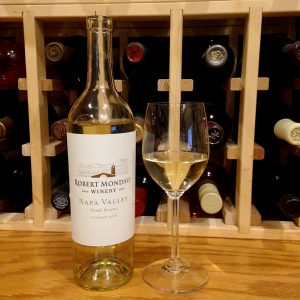 Dry; crisp, refreshing; superb acidity (3.14% pH) and mineral notes. Ripe, tasty, fruit gives illusion of sweetness. Medium body with nice balance, creamy texture, elegant. Blend of 92% sauvignon blanc, 8% sémillon; 59% of fruit from Wappo Hill Vineyard, 39% from Kalon Vineyard, 2% from Oakville District (all Napa Valley); 14.5% ABV.
Robert Mondavi Fumé Blanc has been fantastic value-for-price pour since Mondavi created it more than 50 years ago. The addition of 8-15% sémillon for its peach, lemon, and beeswax notes sets it apart from many sauvignon blanc efforts. In Bordeaux, French use this blend to create dessert wines such as sauternes. It also is formula in Pouilly-Fumé for sauvignon blanc.
Mondavi's sauv blanc genius was to set it apart from what, at that time, was the bad reputation in America of sauvignon blanc—New Zealand's breakthrough was decades in the future. Mondavi accomplished this by the quality of the fruit, the blend, and his made-up name. His goal was to approach the profile of fruit-forward Pouilly-Fumé, which involves some aging in oak. In this vintage, 2% was barrel fermented in new French oak for texture and complexity. It was then aged for six months in 60-gallon French oak with sûr lie (lying on the yeast lees) hand-stirred every two weeks for creamy texture and integration of flavors.
Mondavi's made-up name evoked smoke—fumé is French word for smoke—that reflects in Pouilly-Fumé where the grapes are coated with a grey bloom at maturity. Fumé also references a gun flint aroma that comes from too little exposure to oxygen during winemaking, a very fine line that separates complex and good from odors of rotten eggs and garlic. Blanc is the French word for white. So Mondavi's name means "white smoke."
Interestingly, Mondavi did not trademark his made-up name. He did not so other people would use the name and increase awareness of his product. Because there were no rules, however, makers in the 1970s began making fumé blanc wines that did not experience any oak, thus making them more like Sancerre, the other main iteration of French sauv blanc, but without the French focus on quality. Surely, you did not expect wine to be easy.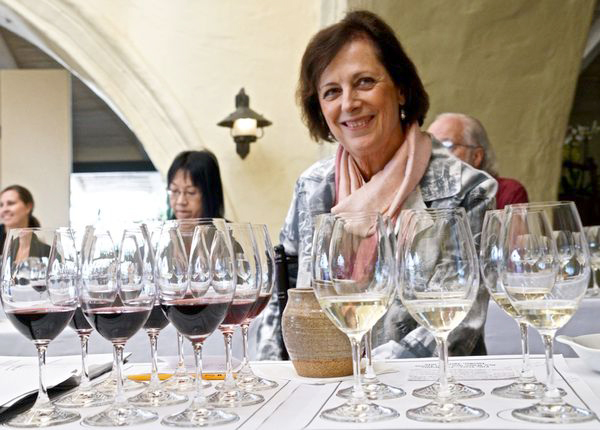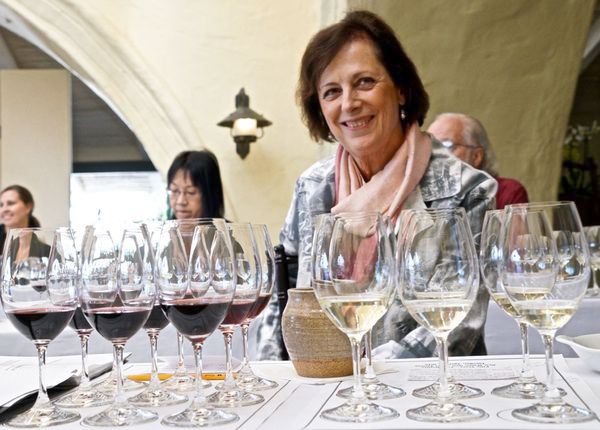 Robert Mondavi built his namesake winery in 1966 with the expressed purpose of making wines in the Napa Valley that would compete on the world stage. He introduced Fumé Blanc two years later. Today, the Robert Mondavi Winery company remains a master at superb, large-scale production of wine that faithfully expresses the varietal or wine style, a legacy of the founder, who revolutionized wine making and marketing. Constellation Brands purchased Robert Mondavi in 2004 (for $1.03 billion in cash; Robert died in 2008). The goal of affordable quality remains, as do key personnel who were mentored by Robert. Geneviève Janssens is the director of winemaking. She started at Mondavi in 1978 and was named Winemaker of the Year by Wine Enthusiast in 2010.
Robert Mondavi Fumé Blanc, Napa Valley 2016 is a legendary, breakthrough effort that demonstrated the excellence of sauvignon blanc to Americans. It is affordable and delicious and true to its Pouilly-Fumé roots with a Napa twist. It is rounder and more approachable than New Zealand sauv blanc efforts, but remains a clear "pairs with almost anything" pour thanks to acidity and the versatility of the savu blanc grape. Pair with seafood such as grilled halibut, turbot with hollandaise sauce, also tuna, poached salmon; chicken salad; turkey; pork tenderloin; lobster and grilled shrimp; fresh trout; raw oysters with lemongrass-ginger mignonette; pan-fried scallops; garden salads; it even goes well with scrambled eggs. $19-22