Deep ruby color; cherry, blackcurrant, spice on the nose; black cherry, plum, blackcurrant, blackberry, sage on the palate.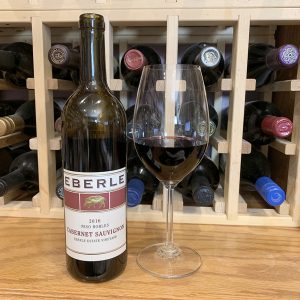 Dry; full body; smooth tannins. Some oak and vanilla, but not excessive, from 22 months in 100% French oak barrels. Tech notes do not say so, but many of those barrels must have been second-third-plus use. One third of the juice fermented with a submerged cap to deliver additional color and flavors. Remaining juice fermented in stainless steel with twice-daily pump overs to deliver expressive, 100% cabernet sauvignon Paso Robles fruit from Eberle's 25-year-old vines; 14.1% ABV.
Dense structure that relaxes with some air. Plenty of texture on the initial attack, then black plum, dark fruits, Paso Robles dust take over on the mid-palate and finish. Black pepper on the end of the finish. Smooth overall, especially for a big-fruit cab. Avoids jammy. Benefits from decanting.
"Eberle" name comes from German and means "small boar." It has served as the winery's logo since the winery's inception in 1982. Fortunately, there is no bore in Eberle's products. Assertive black fruits and somewhat pricey, but you will not find the drinking of this wine tedious or wimpy.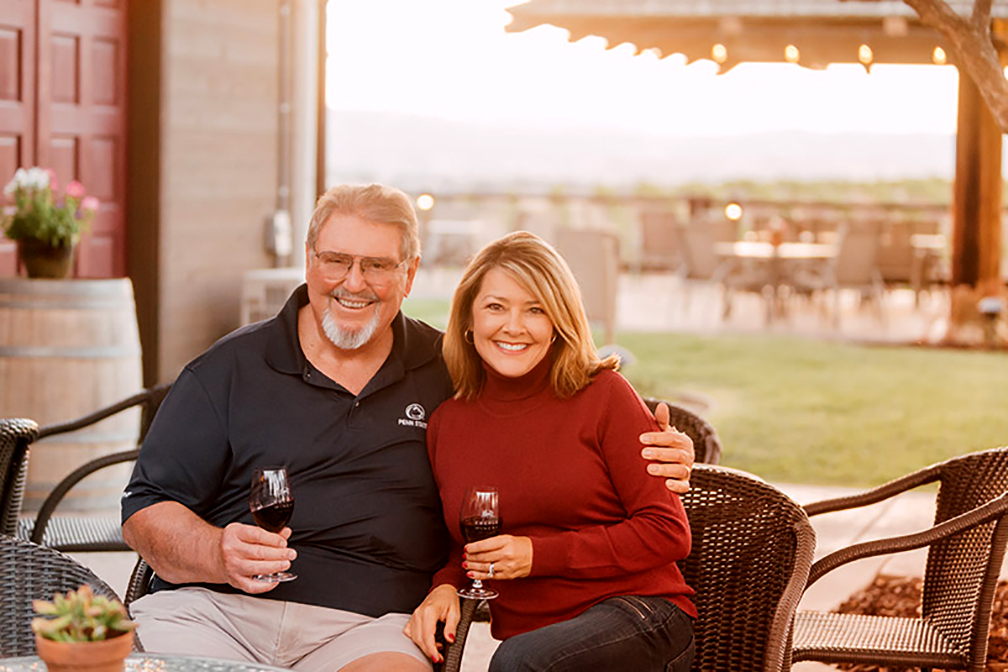 Gary Eberle is a Pittsburg native and UC-Davis enology graduate. A Paso Robles pioneer, he first helped establish his family's Estrella River Winery and Vineyards in Paso Robles in 1973. A few years later, he pursued his own project down the road from Estrella. In 1982, he launched Eberle and co-founded the Paso Robles Appellation with Herman Schwartz, Vic Roberts, and Tom Tom Meyer. A short time later, he opened the doors to a newly built redwood winery.
Gary's wife, Marcy, is a fifth-generation Central Coast native. She was a reporter and Morning Daybreak anchor for the NBC affiliate in San Luis Obispo. She met Gary doing stories on Paso Robles wine. She became the evening news anchor on the CBS affiliate in 2001. Shortly thereafter, she began helping Gary market Eberle, then became the winery's full-time head of public relations. The couple married in 2008.
Chris Eberle is the winemaker. He is no relation. Chris is from the Central Coast, graduated from Cal Poly in 2005, then earned a diploma in enology from Washington State. He joined Eberle in 2006 as an assistant winemaker, but three years later sought other opportunities in South Africa, Germany, New Zealand, Australia (where he met his wife, Tessa), and France. Gary contacted Chris in 2015. Chris notes: "From the vineyards to the caves to Gary & Marcy and the crew, it was like coming home. I always knew I'd be back."
Eberle Estate Cabernet Sauvignon, Paso Robles 2016 delivers black fruits galore. Be patient in your glass, or—better yet—decant to open up layers of the black fruit flavors. Gary Eberle has been important part of the Paso Robles ascendency as a quality California wine region and this carries on the tradition. Pair with rich red meats; grilled steaks; filet mignon with balsamic glaze; slow-cooked beef stew; short ribs braised with mushrooms and tomatoes; rosemary braised lamb shanks; lamb tagine; blue cheese burgers. $42-45