Deep purple color; peppercorn, chocolate, berries on the nose; blackberry, wild berry, coffee, cocoa, leather, tobacco on the palate.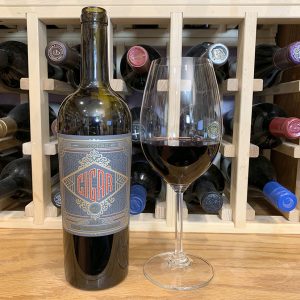 Dry; full body; sweet light tannins; soft acidity. Voluptuously fruity with baking spice, creaminess, and high alcohol—15.5% ABV—sweetens this classic big California zin. Wonderfully delicious, and the various delicious and comforting elements happily masks the alcohol, so sip carefully if you are not at home. Better to be within staggering distance of a couch or bedroom
Oak lurks but does not in any way overpower. Juice spend eight months in oak barrels, partially French. Blend of 88% zinfandel; 6% petite sirah; 3% cabernet sauvignon; 3% petit verdot.
Cosentino Winery is located in Oakville on the historic Saint Helena Highway at the entry to the Napa County, but they also have long been champions of the Lodi Appellation to their east. Winemaker Marty Peterson is a fourth-generation farmer and grape grower in Lodi and emphasizes sustainable farming—Lodi is one of the leading U.S. appellations for sustainable farming.

Cosentino is a Vintage Wine Estates brand—others include B.R. Cohn, Delectus Winery, Sonoma Coast Vineyard (SCV), Viansa, and many others—and also is a partnership with Deutsch Family Wine and Spirits. Deutsch brands include Yellow Tail, Josh Cellars, Ruta 22, Georges Duboeuf and many others. So this pour pulls together two heavy hitters, if not players quite in the Constellation Brands, Gallo, and Treasury Wine Estate tier.
Vintage Wine Estates offerings emphasize crowd pleasing pours. Dependable quality, sometimes a flirtation with jammy to provide the big fruity sweetness that is a mass market winning formula, and a price that doesn't freak out the casual wine drinker. This bottle deserves to be a star in their portfolio; it is fruitiness sweet, not residual sugar sweet.
Cosentino Winery Cigar Old Vine Zinfandel 2017 is simply delicious as a big fruit, big alcohol wine. Wonderfully, it does not careen into excess. This is not jammy. The creaminess and spices expertly muffle the alcohol, leaving tasty sweetness simulacrum. If you enjoy old-vine zin, you will enjoy this mouth-filling, fun drinking, Lodi zinfandel at a nice price. Pair with lamb shanks; pork ribs; brisket; barbecue; also works just drinkin' delicious wine in front of fire or fire pit sharing lies and tall tales from yesteryear. $17-22