Pale gold color; tropical fruit on the nose; melon, peach, pineapple, lemon on the palate.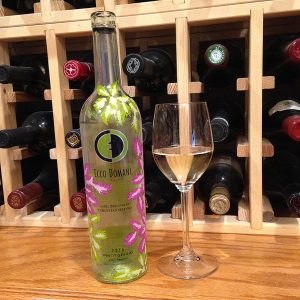 Dry; light-medium body; good acidity balances fruit-forward attack; clean, juicy, crisp, fresh, easy drinking. This is not sophisticated wine with distinctive personality reflective of it terroir. Instead, this is wine you don't need to think about, just sip and enjoy, which can be welcome and very enjoyable change of pace. Its fruitiness will pleasure a lot of palates, its nice acidity will cleanse your palate, and its refreshing zip makes it a great sip on a summer day. The winemaker says it is made to be consumed within a year of its bottling, so if you see some in your rack, refrigerator, or store, open and enjoy now.
This year's limited edition (meaning just this vintage, Ecco Domani made 83,000 cases of this) label was created by fashion designer Christian Siriano. Inspired by 1960s Palm Springs, Siriano's design is a bright palm-leaf pattern in Ecco Domani's signature green color, accented by the bold pinks that were a signature color of Siriano's Resort collection in 2016. Ecco Domani play big into fashion, lifestyles, and young consumers. Each year the Ecco Domani Fashion Foundation gives awards to support young designers. The distinctive, stylish bottle and the fruity lightness of the wine makes this a great pick to pull out of your trendy wine carrier at a picnic.
Ecco Domani means "Here's Tomorrow" in Italian and is a Gallo-created brand. Their pinot grigio is made from grapes harvested in the Tre Venezie region of northeast Italy—Trentino-Alto Adige, Veneto, and Friuli-Venezia. The winery buys all its grapes; it has no vineyards, but it does have contracts with many growers specifying how to grow, and especially harvest, their grapes. The key is to harvest late so there is maximum fruitiness, and Ecco Domani consistently reflects that strategy.
Fabrizio Gatto is the winemaker. He says his goal is "to combine brisk acidity, inviting aromas, moderate alcohol and a high level of food compatibility in all of the wines I craft." He has been the head winemaker at Ecco Domani since the winery's founding in 1996, making this a marriage of one talented winemaker's vision and skills with Gallo's marketing power and global reach. Gatto is the only winemaker Ecco Domani has had in its 21-year history; he also is the consulting winemaker for La Marca, the stop-selling prosecco in the U.S.
As with almost all makers of pinot grigio, Gallo has enjoyed remarkable success, selling more than 162 million bottles since its launch in 1996; it is the best selling pinot grigio in the United States. Overall, wine sales in the pinot grigio category now top 11 million bottles annually, up from 384,000 in 1998. You should be able to find this offering and its exuberant label almost anywhere.
Ecco Domani Pinot Grigio delle Venezie IGT 2016 simple, delicious, excellent acidity, very easy drinker at terrific price; great value-for-price play for fun, laid-back sipping. Pair with fish, hors d'oeuvres, picnic foods. $8-12