Medium gold color; white fruits, peach, honeysuckle and flowers on the nose; white peach, tangerine, yellow apple, lemon on the palate.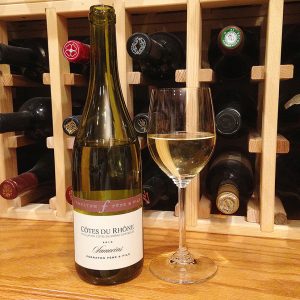 Dry; medium body, creamy, nice acidity and balance; fresh, crisp, clean. Blend of 35% roussanne, 30% viognier, 25% grenache blanc, 5% clairette, 5% marsanne. The blend changes each vintage—the 2015, for instance, was 60% white grenache and 40% clairette—but Ferraton Père & Fils consistently delivers delicious value regardless of the blend.
This fermented in stainless steel; many of the lots, but not all, underwent malolactic fermentation. The various lots then are blended. In 2015, none of the juice underwent malolactic fermentation; in 2016 most did. The winery aims for the best wine that can be made with the grapes God gives them; their consistent excellence is a testament to their skill and attention to quality.
The Ferraton Père & Fils estate in Tain l'Hermitage was founded in 1946 by Jean Orëns Ferraton, a vigneron and son of a vigneron. His son, Michael, shared Jean's passion for winemaking in the northern Rhône, where the cool mistral winds help bring out the acidity and make the wines less fruity than southern Rhône. In 1998, Ferraton Père & Fils began implementing a biodynamic farming program (organic farming, plus more) to emphasize the terroir.
In 2004, Michel Chapoutier purchased the estate while maintaining its direction. In 2013, the entire winery and cellars were updated with state-of-the-art equipment and fermentation tanks. This wine comes from those improved facilities, and the cleanliness and freshness of this effort reflect the improvements.
The winery and vineyards are located in hallowed grounds of the northern Rhône—Hermitage, Crozes-Hermitage, and Saint-Joseph. The winery also obtains grapes from long-time associates throughout the Rhône. They include the whole panoply of the region: Hermitage, Saint-Joseph, Crozes-Hermitage, Côte-Rôtie, Condrieu, Comas, Châteauneuf-du-Pape, Côtes du Rhône, Côtes du Rhône Villages, Tavel, Gigondas, and Saint-Peray. In short, Ferraton Père & Fils is a major player in the Rhône wine production region of eastern France, adroitly drawing grapes from wineries throughout the region and consistently producing outstanding efforts across many styles and price points.
Today, Ferraton is headed by oenologist Damien Brisset. "When it comes to securing the best fruit or juice, it's all about good personal relationships," Brisset says. "Many contracts in this part of the world are old-fashioned handshake deals." The mission statement (labeled "A Promise" on the website) includes: "Believing in audacity. To dare. To create. With a freedom to imagine specific and rare wines." That promise applies to their Samorëns efforts (there is a rosé and a red, too), certainly to the flexibility they bring to their blanc bottlings in pursuit of quality.
Ferraton Père & Fils Côtes du Rhône Samorëns Blanc 2016 is extremely nice wine and value; very clean, fresh, has substance in the mouth. This will pair with any food that pairs well with unoaked chardonnay—lighter fish, salmon cakes, lobster, pan-seared scallops, shrimp, caesar salad, garden salads, vegetable soups, mild curries with buttery sauces. It also will work as a solo sipper, aperitif, or with light cheeses and finger food. Very versatile, very good. $11-13