Pale yellow-gold color; lemon, flowers, peach on the nose; lemon, citrus, minerality, some smoke on the palate.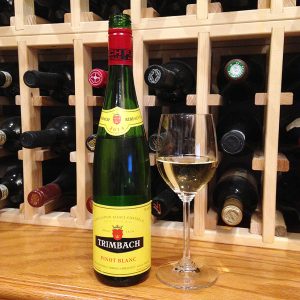 Pinot blanc and pinot auxerrois, a classic Alsace blend. Pinot blanc is a genetic mutation of pinot noir most often found in Alsace. Pinot auxerrois is close sibling to chardonnay (both are result of crosses between gouais blanc and pinot noir); pinot auxerrois also is most often found in Alsace.
Pinot blanc on the label from Alsace wine does not mean 75% of the blend is pinot blanc. The designation means this is white wine made with a mix of pinot varieties. In the Alsace AOC, pinot blanc can include pinot blanc, pinot auxerrois, pinot gris, and pinot noir that is vinified without skin contact. Given the hints of smoke, especially on the finish of this wine, pinot auxerrois likely is the leader in this effort, followed by pinot blanc.
This is dry, good acidity, medium body with excellent fruit presentation including some apricot, apple, pear hints. Crisp, balanced, nice tangy quality throughout, fun to drink, superb for summer.
The Trimbach family winery dates from 1626 and now is into it 13th generation. Brothers Pierre and Jean Trimbach, 12th generation, handle day-to-day management. Bernard and Hubert Trimbach (father and uncle respectively to Pierre and Jean of the 11th generation), remain involved. Anne, eldest of the 13th generation, recently joined the family business.
The Trimbachs pursue a particular, elegant, balanced, well structured style. Bottles remain in cellar for several years before release to the marketplace and have nice aging potential after that. This effort spends two years in cellar, for instance, before release and should drink well to 2020.
F.E. Trimbach Pinot Blanc Alsace 2014 is perfect as an aperitif; it clearly is sophisticated enough to hang with a formal crowd. It will pair well with shellfish, light appetizers, cold meats, cheese straws, shrimp. $14-18
Trimbach Estate websit
Trimbach Ribeauvillé (Alsace) website