Pale yellow-gold color; apple, butter, toast, lemon on the nose; apple, pear, Meyer lemon, butter, oak, melon on the palate.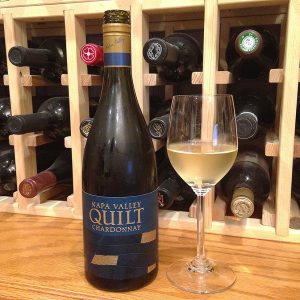 Dry, medium body, silky in the mouth; round, rich; nice complexity with drip of honey by mid-palate and finish. Benefits from time in glass, consider decanting. Barrel fermented for 45-plus days in a cool cellar with stirring on the lees, followed by full malolactic fermentation, then 15 months in 59-gallon French oak (70% new, 30% seasoned)—delivering complexity, butter, and oak notes. Good acidity gives balance to the assertive fruit, butter, and oak; 100% Napa fruit.
Quilt is brand of Copper Cane Wines & Provisions. The company offers variety of wine brands, plus a line of premium cigars (Avrae) and a line of swimwear (Mia Macelle). Copper Cane name comes from the color of the wine vine's canes at time of maturity. A cane is the shoot of a grape vine. The base of the vine is the cordon—it is the gnarled, tree-like part just above the ground, followed by the wood, which is like branches from the tree/cordon. Then come canes from which leaves and grape clusters grow. After harvest, a healthy vineyard will appear to be a sea of copper.
Quilt is made by Joe Wagner, owner and winemaker at Copper Cane. He is a fifth-generation Napa farmer/winemaker—his family founded Caymus Vineyards in Napa Valley in 1971. In 2001, at age 19, Wagner started making wines, producing an award-winning pinot noir label, Belle Glos (he also completed the wine executive program at UC-Davis). Wagner founded Copper Cane Wines & Provisions in 2014. Wagner wines aim at big, fruity, upper-end expressions of Napa cabs and chards. Wagner's business aims are to be robustly assertive and successful; he is playing a big and a long game.
In 2015, Wagner sold his wildly successful Meiomi brand to Constellation Brands for a whopping $315 million. The sale makes him richer, but it also seems intended to boost his move into Oregon to complement his Napa operation as well as other ventures. His Oregon play is the Elouan brand of pinot noir. He also has ambitious plans in Sonoma for his Dairyman Vineyard, located between Santa Rosa and Sebastopol, but that effort faces push-back because of its intended bigness and environmental effects.
Wagner gets praise for his big efforts, but Meiomi also is criticized for being too jammy for a pinot noir. Quilt Napa Valley Chardonnay avoids the oak-and-butter-bomb condemnation earned by some Napa chards. It clearly is in the butter-oak-vanilla style, but it is done in the appropriate way that made this Napa chard style so popular in the first place. You can buy the cartoon version of this for $10 or less, but if you want to enjoy what skilled people can do with this style, this clearly is one of the places to go.
Quilt Napa Valley Chardonnay 2015 fulfills the Wagner family motto of "go with your palate." If your palate embraces the big Napa chard style done right—and that style absolutely deserves respect in the world of wine—then, this is it. Warm days, cool nights, Napa fogs make for a vividly distinctive expression of chardonnay that everyone deserves to experience in life, even if the price makes you pucker. You will never find this at a grocery store discount table. This is the real Napa cab, perfect for those seeking affordable luxury for that important business dinner or special night of the week when you want a wine that compels another delicious sip. $36-40
Quilt Wines website
Copper Cane website