Deep pink coral/rosé color; strawberry, cranberry, rose petals on the nose; strawberry, watermelon, cranberry on the palate.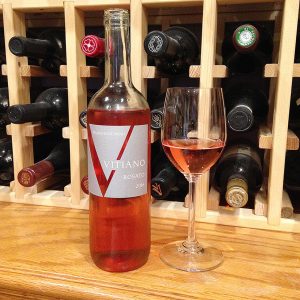 Dry; medium body; fair acidity (3.46); soft, balanced; all fermentation in stainless steel, no malolactic fermentation; blend of 30% sangiovese, 30% merlot, 30% cabernet sauvignon, 10% aleatico, all fermented separately then blended.
Two acclaimed Italian winemakers, brothers Riccardo and Renzo Cotarella, founded Falesco in 1979. They emphasized the uniqueness and traditions of Italian varietals combined with the versatility of international grapes—this delightful rosé is an example.

Falesco winery is located in Umbria's Montecchio municipality, near Orvieto in the southwestern area that borders the Lazio region. In Lazio, Falesco also maintains a cellar for the vinification of its DOC Est! Est!! Est!!! di Montefiascone (that is not a typo, but the name of the region).
The unusual name of the wine region dates to a 12th-century tale of a German traveling to the Vatican for a meeting with the pope. The bishop sent a prelate ahead of him to survey villages along the route for the best wines. The wine scout was told to write "Est" (Latin for "There is") on the door or wall of inns he visited when he was impressed with the quality of the wine so the bishop would know in advance where to make a stop.
At a Montefiascone inn, the prelate was reportedly so pleased with the local wine that he wrote Est! Est!! Est!!! on the door. While this tale has been widely repeated, the story is considered by many wine experts to be apocryphal. Whatever, good story and the region is still called Est! Est!! Est!!! di Montefiascone. Who could not drink a wine from region with that name?
The region is bordered by the Tyrrhenian Sea on the west and Italy's mountainous center to the east. The dry, perfectly drained, volcanic terroir offers ideal growing conditions for textured reds and crisp, refreshing whites, and this very nice rosé.
Falesco proclaims its mission is to rediscover and promote Italian native varietals—there may be something like 2,000 different grape vines, the most in the world—with the land's capacity to produce high quality wines no matter the grape. Well, OK, that is hard to argue with. Italy really knows how to grow great grapes no matter where the grapes came from. To me, that is explanation why Italy has something like 2,000 grape varietals that make excellent wines.
Falesco Vitiano Rosato Umbria IGT 2016 is reason you should enjoy rosé all year long, not just by the pool in summer. Pair with salads, grilled veggies, grilled tuna or salmon, shellfish; also works as an aperitif. $11-13