Deep ruby color; cherry, red fruits on the nose; cherry, plum, blackcurant, leather, chocolate, vanilla, spice on the palate.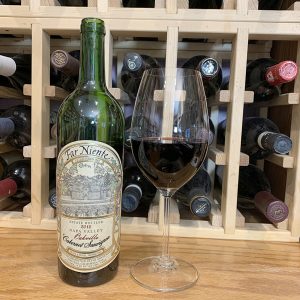 Dry; dusty tannins; some balancing acidity. Blend of 97% cabernet sauvignon, 3% petit verdot. Soft, silky in the mouth. Medium weight. Clean, precise, significant fruit. You are drinking essence of Oakville cab. There is balance and power here, but also finesse. It is not a massive, smack-you-in-the-face effort. Far Niente has made world-class wine for almost four decades, and this drinks like they don't have to prove anything. Let the land and grapes speak. Nice structure, complexity and depth. Lingering finish.
Significant sediment after 10 years, a marker for quality, but something you have to accommodate. Decanting or pouring through screen recommended/required. The wine benefitted from my double decanting; 14.5% ABV.
John Benson founded Far Niente (Italian for "without a care") in 1885. Benson was the uncle of famed impressionist painter Winslow Homer. Noted architect Hamden McIntyre designed the winery building. Constructed against a hillside, Far Niente is a gravity-flow operation, no need for pumping of juice.

Far Niente operated as a winery until Prohibition in 1919. It was abandoned and fell into disrepair until Gil Nickel purchased the winery and vineyards in 1979, beginning a three-year effort at restoration and rehabilitation. Wine production resumed in 1982. The winery focuses only on cabernet sauvignon and chardonnay. In 1998, a bottle of Far Neinte Sweet Muscat 1886 was discovered in a private cellar. The bottle retains its original label and capsule and is believed to be the oldest intact bottle of California wine in existence. Far Niente's sister wineries include Dolce, Nickel & Nickel, and EnRoute.
Built on a hillside, wine caves were intended to be part of the original winery. They did not materialize until the restoration in 1980 when Alf Burtleson dug a 60-foot wine cave, the first to be constructed in North America since the turn of the 20th century. The caves were expanded over the years and today encompass some 40,000 square feet and house more than 2,500 French oak barrels.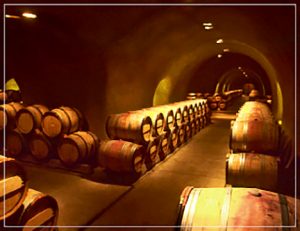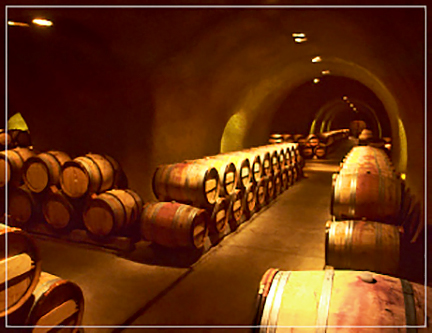 Thirteen acres of beautifully landscaped gardens surround the winery. The gardens include thousands of southern azaleas that bloom each spring. Likely the largest single planting of azaleas on the West Coast, they can be seen from a mile away on Highway 29. The gardens were a natural for Gil Nickel, who with his brother, John, ran the family's Greenleaf Nursery in Oklahoma, which today is the second-largest privately held commercial nursery in the U.S.
The winery has practiced sustainable agriculture for many years. The website notes the winery strives "to be ecologically friendly in all aspects of operations at our wineries. In 2008, Far Niente went solar in a revolutionary way with our Floatovoltaic™ system, becoming the first in the world to float a significant, grid-connected solar installation. Along with sister winery Nickel & Nickel, we are solar powered, net-zero users of electricity who annually produce more energy than we consume. All our vineyards are organically farmed; vineyard irrigation and frost protection use collected process water from winery operations. Lastly, we continue to recycle extensively at all our wineries."
Far Niente Estate Bottled Cabernet Sauvignon, Oakville 2010 is easy, easy drinker. Impressive fruit. This is high-end Napa cab from significant, historic maker. It is well crafted and displays accurate, defined red fruits. I struggle some with its three-figure price tag. You are buying a very, very nice wine, but you also are paying for a prestige label. Your call. Pair with grilled, braised, sautéed-and-baked red meats; slow-cooked brisket; Kobe beef Wellington; rosemary rack of lamb; lamb chops; pork roast; braised rabbit; buffalo burger with aged cheddar cheese; mature, hard cheese. $125-160
Far Niete website with several informative videos; worth a visit