Deep ruby-inky black color; black fruits, blackcurrant, bacon, smoke on the nose; blackberry, black cherry, black pepper, meat, tobacco on the palate.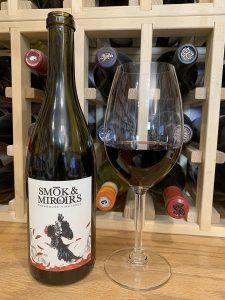 Dry; rich, full body, some tannic bite with a dollop of ameliorating acidity (3.89 pH). Decant to pull this together. Multi-vintage blend of 70% 2016 mourvèdre, 30% 2018 mourvèdre. Dark, brooding. Mourvèdre—aka monastrell or mataro—produces dark, tannic wines as a single varietal, so this is tame by its standards with just 14.5% ABV.
That said, this is serious, big wine. Mourvèdre often is used as a blending wine for those very qualities of dark color, tannin, and alcohol. The most notable are GSM—grenache, syrah, mourvèdre—wines such as Châteauneuf-du-Pape and Gigondas. It also is used as a blender in rosé wines in such regions as Provence.
Mourvèdre likes sunlight. Its origins seem to go back Spain. Sunlight-loving grapes from Spain and Italy have proven to be ideally suited for the High Plains of Texas, where there is plenty of sunlight. The high elevations—3,000-4,000-plus feet give excellent diurnal shift, hot days, cold nights. The High Plains also feature significant winds, which protects the vines from their Achilles heal of powdery mildew and downy mildew. In short, mourvèdre didn't start in Texas, but it got there as soon as it could and has become one of the state's signature grapes. This multi-vintage effort gives you a taste of why.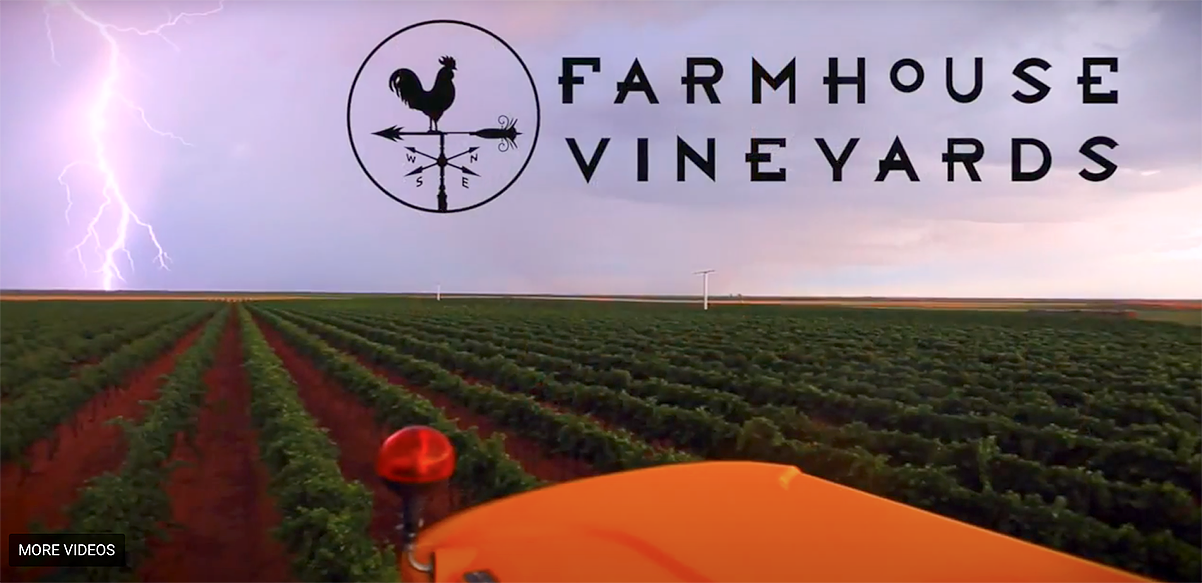 The grapes are grown on the High Plains—the vast flatlands of northwest Texas, particularly around the cities of Lubbock and Brownfield. The wine is made in Fredericksburg, Texas—the heart of the Texas winery and tasting room area. The Hill Country AVA, located between San Antonio and Austin is the second-most visited AVA in the United States, trailing only Napa Valley. The High Plains–Hill Country pairing is the soul and success of Texas wine.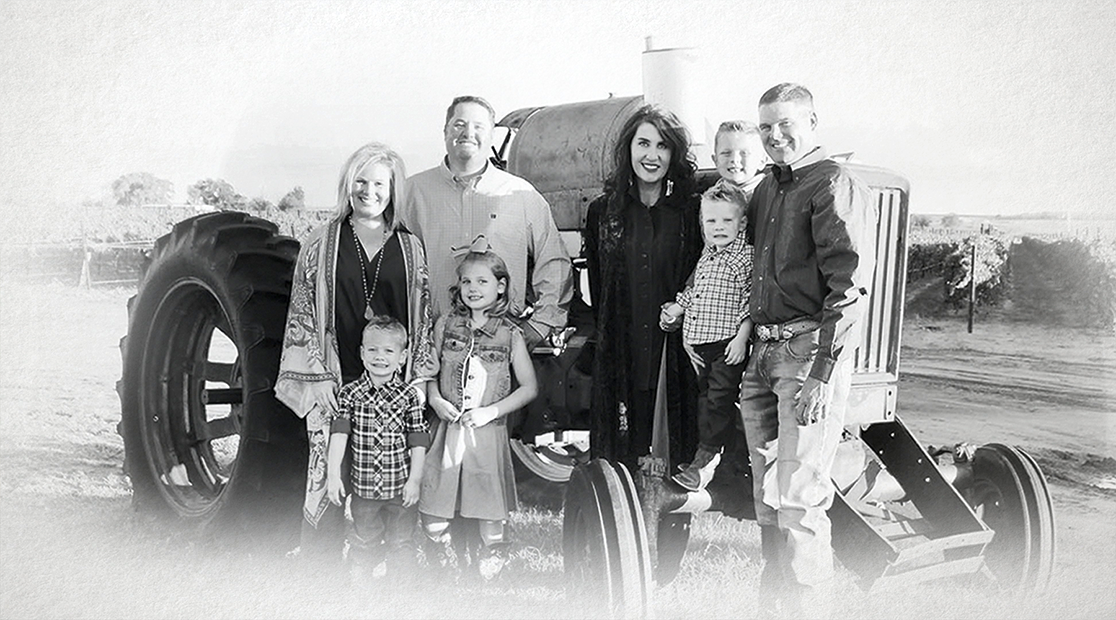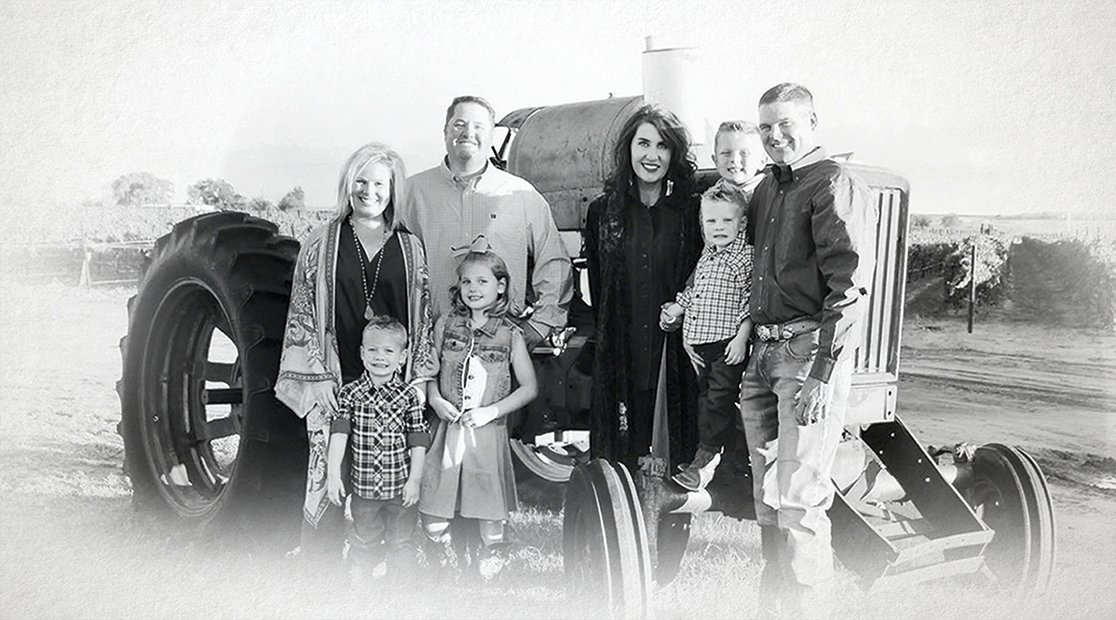 The Farmhouse website tells their story well: "We are the Seaton's & Furgeson's. A brother-sister combo, comprised of 8 generations currently farming 7,000 acres of Cotton, Peanuts, Melons, Various Grains  & Vineyards. We have the best damn client list in Texas. Farmhouse Vineyards proudly grows grapes for some of the largest wineries in the state—to the most boutique. We're incredibly proud of that.
"First and foremost we are growers. For us, the ultimate reward is not producing boutique runs of our own wines, but receiving vineyard designation from our clients. Our tagline isn't a nice little spin an agency crafted on our behalf. It's our everyday goal & hopefully our outward expression. Est. in 2010 with our initial vineyard planting."
The four proprietors include Traci and Anthony Furgeson and Katy Jane and Nicholas Seaton. The website cleverly describes their qualifications and responsibilities. The website also presents their row crops—7,000 acres of cotton, peanuts, black-eyed peas, melons, pumpkins, hemp, and various grains. Their livestock holdings include a herd of Dorper lambs and sheep. Dorpers are known as "meat sheep" because they have hair instead of wool and were bread in South Africa for their superior meat—both taste and quantity. If you do not think you like lamb, Dorper can change your mind. They butcher and sell their meat and will be happy to pair it with their wine.
Relatively small production is an issue with Texas wine. Most Texas wine is consumed in Texas even though the state can lay claim to being the fifth-largest wine producing state (behind California, Washington, New York, and Oregon). If this wine is sold out on their website, but they inject a comment that they are making more, so just be patient.
Farmhouse Vineyards Smōk & Miroirs NV is bold expression of Texas mourvèdre. If you are not into substantial red with attitude and character, this likely is not for you. On the other hand, if you like your red wine big and your beef bold, this is worth the effort to secure it. As mentioned, this is ideal pairing with lamb, particularly Dorper; also with rich cuts of beef; wild game—venison and turkey; pork shoulder and pork sausage; barbecue—both pork and beef; rabbit; veal. Cheese—smoked cheddar, edam, manchego, aged provolone, parmesan, pecorino, smoked gouda. $50