Pale garnet color; raspberry, plum jam, strawberry on the nose; plum jam, strawberry, raspberry, blackberry, honey on the palate.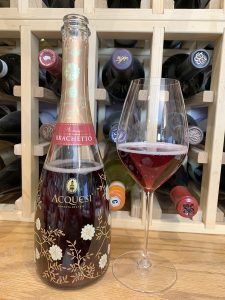 Dolce—this is sweet sparkling wine. At 95 g/L of residual sugar, it lands as a medium-sweet still wine or a doux sparkling. It certainly is sweet, but that is nicely contrapuntal with 3.25 pH. Sweet wine works when paired with assertive acidity, and this has all that. Still, this is not your pour if you are not into sweet wine. On the other hand, many people are into sweet wine and they can anticipate being over the moon when this pleasures their palate. 6.5% ABV
The Cuvage Winery that makes this wine was founded in 2011. It interprets an ancient tradition of sparkling wine in the Piedmont region of northwestern Italy. Italian oenologist Federico Martinotti invented the controlled method of making sparkling wine in 1895. In Metodo Martinotti involves controlled fermentation in large vats. That method is employed to make this semi-sparkling. Made with 100% brachetto, an aromatic light red grape variety primarily found in the Asti province of northwestern Italy. 

Acquesi is a brand of the Cuvage winery. The brand dates back to 1952. Cuvage notes it "recently re-launched this brand with its iconic, Liberty Style design, dating back to the early 1900s from the city of Turin, Italy. Our unforgettable floral pattern symbolizes this period's elegance and joy."
Acquesi Brachetto Piemonte Spumante DOC is a dessert wine with a little fizz. Pair with chocolate dessert, fruit tarts, buttercreams; spicy Asian food; mature cheeses. This is best regarded as a sweet dessert wine. $15-17