Deep ruby color; black berries, forest floor/earth on the nose; black cherry, black plum, tobacco, mocha on the palate.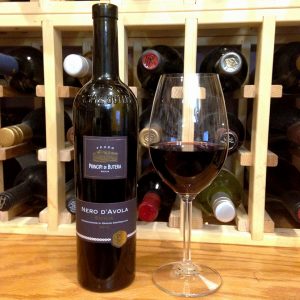 Dry; rich, full, chewy in the mouth with polished, tame tannins. Savory notes of smoked meat and teriyaki sauce appear on mid-palate and finish after the black fruit initial attack. Smooth and soft, especially after some air in the glass; gentle acidity. Nero d'avola is Sicily's signature red grape, and this is a well-built and affordable iteration. Sometimes called Sicily's cabernet sauvignon, nero d'avola shares cab's full body and assertive presentation of red fruits, especially black cherry and black plum in this effort, but it typically—and in this case—comes with more reserved tannin and less alcohol; 14% ABV.
Feudo Principi di Butera Nero d'Avola, Sicilia and is a brand of Zonin, Italy's largest privately-held wine company. Established in 1821, Zonin now is in its seventh generation of family ownership. Domenico Zonin took over management of the company from his father, Gianni Zonin, in 2004; Gianni had run the business since 1967.
During Gianni's 37 years at the helm, he took the company from a local maker in Vicenza to its present position as the "Gallo of Italy" by emphasizing a green approach to ecologically sustainable viticulture and control of the wine process from vineyard to distribution. Antonio Froio is the winemaker in Zonin's beautiful winery and vineyards in Sicily. The website has a nice video of the Sicilian operation.

Feudo Principi di Butera Nero d'Avola, Sicilia IGT 2014 is substantial red that doesn't pummel your palate, but has enough tannin and structure to work with rich red meats. Serious and substantial; excellent value for the price. Pair with beef stew; red meats off the grill; braised meats; barbecue; lamb; wild game; rich pasta dishes; chicken marsala; risotto; salted meats like prosciutto; hard cheeses. $14-17
Zonin Feudo Principi di Butera website, with nice video of the Sicilian operation