Pale straw color; honeysuckle, jasmine, orange blossom on delicate nose; white peach, Meyer lemon, apple, mandarin orange, grapefruit, pear, minerality on the palate.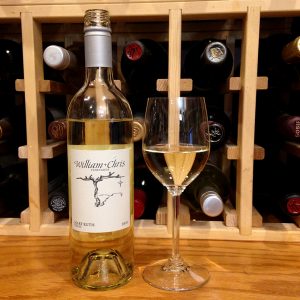 Dry, with illusion of sweet because of vivid fruit, but zero residual sugar. Clean, vibrant, good acidity (3.4 pH). Tart, crisp, and refreshing with bright, citrus-forward fruit. No tannin or oak—completely made in stainless steel. Blend of 54% muscato blanc, 25% blanc du bois; 21% malvasia bianca; 13.1% ABV; 1,198 cases produced.
The blanc du bois is interesting element. The grape was created in 1968 by John A. Mortensen of the University of Florida by crossing golden muscat with native Florida grapes. Resistance to Pierce's Disease is a key property. The disease is a bacterial infections that plagues vine rootstocks in the southern United States, including Texas Hill Country.
Blanc du bois means "white of the wood", but the grape has nothing to do with forests. Instead, it honors Emile DuBois, an influential grape grower and winemaker in the Tallahassee, Florida area. Because of the Pierce's Disease resistance, there are more acres of blanc du bois planted in Texas than in any other state.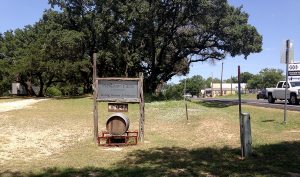 The winemaking facility and tasting room are located in the tiny hamlet of Hye, 20 miles east of Fredericksburg on US 290, the wine road in the Texas Hill Country that is similar to Napa's Highway 29. The Texas Hill Country AVA is the second-most visited AVA in the United States, only behind Napa. There are clear differences: the Napa AVA is 789 square miles; the Texas Hill Country AVA is more than 14,000 square miles. If you plan to visit the attractive winery/tasting room, you must look close for the entrance because roadside signage is minimal.
While the Texas Hill Country AVA produces some grapes, the AVA is more famous for its wineries and tasting rooms. Most Texas grapes—about 85%—come from the Texas High Plains AVA, a region more than 12,500 square miles on the Texas High Plains (Llano Estacado) centered around Lubbock in the Texas panhandle. With elevations ranging from 3,000 to 4,000 feet, hot days and cool nights, the High Plains has developed into a major grape producing region in the past 40 years.
The Texas Hill Country AVA has challenges with grape production—vineyards are at least 1,000 feet less elevation than the High Plains and then there is Pierce's disease. On the other hand, the Texas Hill Country is a major—and huge—tourist area in Texas, and was so even before the winery boom.
With more than 1.5 million people in San Antonio (seventh largest city in the U.S.) and one million people in Austin (11th largest city in the U.S.) the area is an easy day trip for millions. Throw in 2.3 million people in Houston (4th largest U.S. city) and the Dallas-Arlington-Fort Worth area with 2.5 million people. The Hill Country AVA is comfortably reachable for 7.3 million-plus people, all in a less than a four-hour drive. Texans don't blink about four hour drives, and the Austin/San Antonio drives are 90 minutes or less.
Wisdom is you go to Napa for vineyards and bucolical beauty. Throw in high prices and crowds. You go to the Texas Hill Country if you want welcoming tasting rooms, good food, thigh-slapping fun, and outrageous characters. You also go there to enjoy the soaring quality and sophistication of Texas wines. William "Bill" Blackmon and Chris Brundrett—William Chris Vineyards—are part of that story.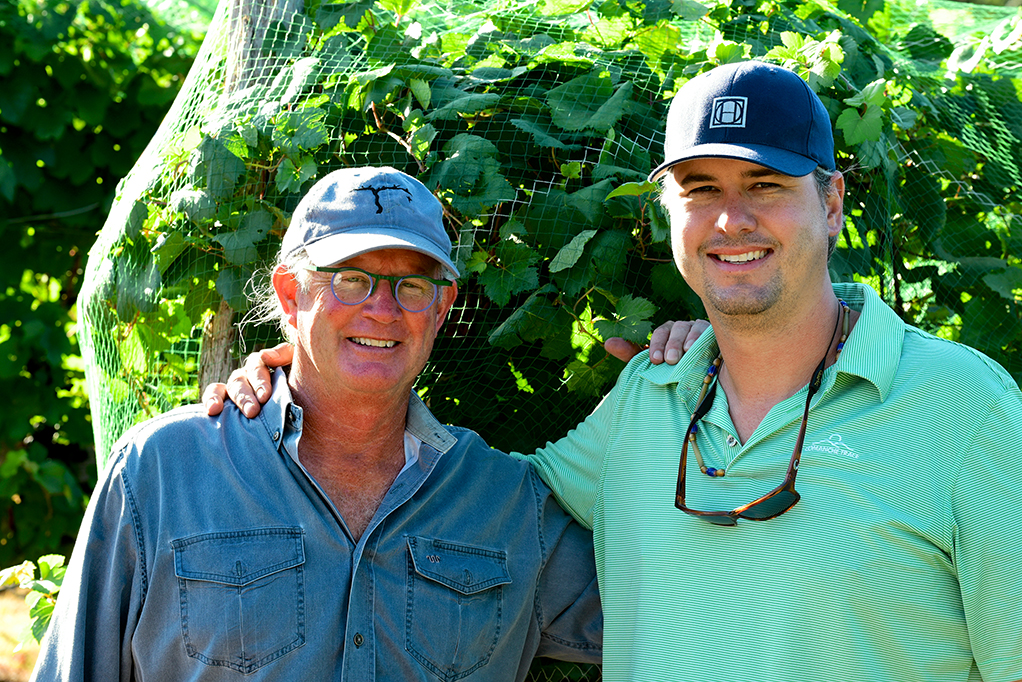 Blackmon has more than three decades experience growing and managing vineyards on both the High Plains and the Hill Country. After a major freeze destroyed their family vineyard on the High Plains, the family moved to the Texas Hill Country. This white wine—their flagship blend—is named after William's mom, who moved to the Hill Country to stay close to her family after the freeze disaster.
Brundrett, who grew up in San Angelo, earned his horticultural degree from Texas A&M, worked at wineries on the High Plains and the Hill Country. In 2017, he received the Outstanding Alumni Award from Texas A&M. The following year, Wine Enthusiast Magazine featured him as a winemaker who is changing the face of American wine.
Blackmon and Brundrett became partners in William Chris Vineyards in 2008. Even though William Chris production now approaches 35,000 cases a year, like many Texas wines, you are unlikely to find this even in a high-end wine shop. Wines are available online with shipping to all the usual enlightened states—35 of them, maybe more, the idiotic U.S. wine shipping laws are in constant flux. Check out the website.
William Chris Mary Ruth White Wine, Texas 2018 is tart and refreshing with layers of fruit flavors held together with good acidity and the citrus melody. If you enjoy sauvignon blanc or un-oaked chardonnay, you definitely should give this a try. Served chilled for summer porch, patio, deck, poolside sipping. Works as an aperitif. Pair with seafood and shellfish; red snapper; sushi; poultry; lemon garlic baked chicken; pork shoulder; spicy Asian and Thai food; salads; fresh fruits; gruyere cheese. Very versatile. $25-28