Deep ruby color; black fruits, cocoa on the nose; black cherry, blackberry, black plum, white pepper, spice on the palate.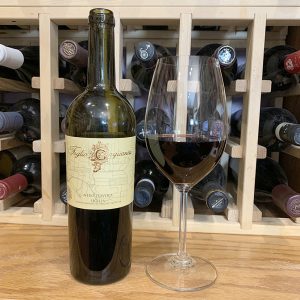 Dry; medium, velvety tannin with reserved acidity. Full body. Smooth with vivid dark fruit. Medium-full body; 100% nero d'avola grapes. Aged six months in French and American oak barrels, then six months in bottle before release. There is some depth and unexpected heft to this effort with distinctive nero d'avola flavors; 13% ABV. Flavors blossom with exposure to air in glass; consider decanting.
Nero d'Avola sometimes is called Sicily's cabernet sauvignon, other times Sicily's syrah. The grape falls between them, lacking cabernet sauvignon's higher tannins, lacking the heft of syrah—although this pour flirts with syrah-like qualities.
Feudo Solarìa traces its roots to 1887 when Don Peppino planted the first vine, starting the Grasso family company. Don Peppino's son, Alessio, built a winery in 1925. The website notes it was the first winery in Milazzo and gained "immediate notoriety for its monumental barrels, each of several hundred hectolitres in capacity. In those years, by ship, the local wine regularly set off to Piedmont or France where it generously contributed to the alcohol content of the most famous 'chateaux'."
Carmel, Alessio's son, built a new winery in the 1950s. Today, the winery is led by the fifth generation. The website notes: "The recent appointment of the young Tullio and Carmelo to key positions marks the company's transition to the fifth generation whose task will be that of capitalising on the family tradition to meet the demands of the international market."
Feudo Solarìa is distributed, in part, in U.S. by Vinebox, a San Francisco-based company launched in 2016. Essentially, it is a wine club that sends you vials of wine to taste. You can move up to full-size bottles by earning credits if you enjoyed the wine in the vials. Wine clubs are great for some people, not so much for others. This club's gimmick is the small vials that arrive in a box. Give it a whirl and see if it suits your lifestyle. Sadly, you appear to have to join the club in order to explore the website to see if you want to sign up. You also can buy this—in full sized bottles—from several online sellers.
Feudo Solarìa Foglio Cinquanta Nero D'Avola, Sicilia 2015 is bright, very black fruit-forward. Velvety tannins make this a round, easy drinker. Nero d'avola classically pairs with rich, very meaty meats—beef stew, seasoned grilled meats and vegetables; legume-based stews; seafood—yes, seafood. Pasta with tomato sauces. Versatile wine you should experience. $15