Medium straw color; citrus, peach on assertive nose; citrus, peach, pear, lime, apple, pineapple, minerality on the palate.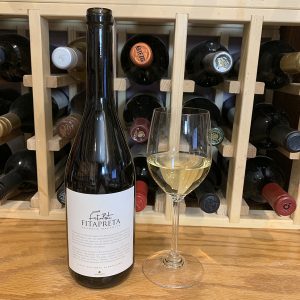 Dry; very clean and refreshing. Good acidity. No oak, made completely in stainless steel; 13% ABV. Whole cluster pressed. Something of an exotic wine made with grapes you likely are not familiar with, which is reason you should give this a try.
Portuguese winemaker António Maçanita and English wine consultant David Booth meet in 2004. A friendship quickly developed. When David had the opportunity to purchase grapes from a vineyard he was managing and António was able to rent space in a local winery, Fita Preta Vinhos was born. They focus on rich, complex wines from Portuguese grapes that express Alentejo—a large province in southern Portugal lying between the cool waters of the Atlantic and the arid interior of Spain. The region is marked by lots of sunshine and significant diurnal temperature shifts, ideal for grapes.

Reflecting their emphasis on Portuguese grapes, this effort is a field blend from two vineyards. One vineyard includes vines 47 years old or older, while the other has vines 27-37 years old. The blend includes antão vaz, and roupeiro as the primary grapes, but rabo de ovelha, tamarez, and alicante blanco also are present. It all makes for a white wine with impressive depth and complexity.
Determining the name of the operation is something of a challenge. It may be Fitapreta. Or FitaPreta. Or Fita Preta. The winery itself spells it different ways on its website and label. No matter, their wine is worth finding.
Fita Preta Branco, Vinho Regional Alentejano, Portugal 2018 is nicely complex wine made with a field blend of indigenous Portuguese grapes. Clean and refreshing, its bracing acidity make very food-friendly pour. Pair with grilled fish; seafood; chicken salad. $22-27
Videos on Fita Preta Facebook page