Pale salmon color; strawberry, white peach, raspberry on the nose; strawberry, watermelon, raspberry, tropical flavors—papaya, banana, minerality on the palate.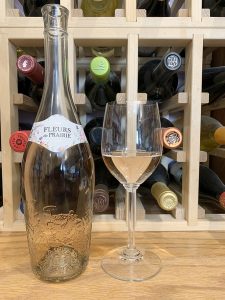 Dry; very crisp acidity which is a main feature. The fruit is somewhat shy. Light body. No tannins or oak notes. Blend of 43% grenache noir, 40% syrah, 9% carignan, 5% cinsault, 3% mourvèdre. Grapes are harvested and go immediately to press to facilitate the light, fresh style. Fermented in stainless steel tanks; each variety fermented separately to preserve individual characteristics before blending. 13% ABV
The winery was founded in 2016 by Deutsch Family Wine & Spirits, Les Grands Chais de France. Deutsch is best known in the U.S. for its Josh Cellars brand—a partnership between Josh Cellars (Joseph Carr) and Deutsch. Florence Delabre is the winemaker. The "Fleurs de Prairie" brand celebrates the wildflowers that carpet the vineyards in Languedoc region of southeastern France. The terroir is Mediterranean with its combination of mild water stress, sun, wind, and ocean influences.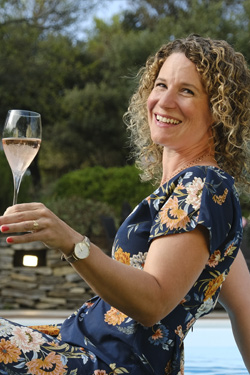 The Languedoc was noted for its over-production of low-quality wine. High yields were the goal, quality was sacrificed. That has changed. Several producers, including this one, realized their region is adjacent to Provence, a region of exemplary rosé. This effort is in the same lane, including its distinctive bottle.
Fleurs de Prairie Languedoc Rosé 2022 is lilting, light, demure effort led by grenache noir and syrah. Bright, crisp acidity is its major feature, accompanied by reserved but quality fruit. Pair with pasta dishes; appetizers and snacks, charcuterie board; lean fish; white chicken meat; vegetarian fare; summer fruits and vegetables; works as an aperitif. Cheese—chevre, fromage blanc, fresh mozzarella, petite camembert, lighter goat cheeses. $19